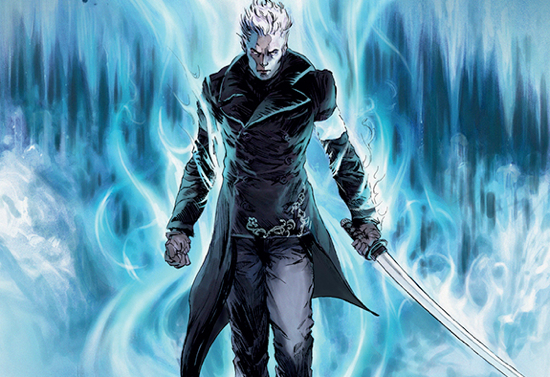 Have you ever played any of the Devil May Cry franchise? If so, then great – you might enjoy the backstory that you get out of this comic. If not, then both the plot and the structure of the comic itself will likely confuse the Devil Trigger out of you. Hang on with me here.
First, Some DmC Background:
Devil May Cry is a video game series that was initially intended to be a continuation of the Resident Evil plot line, but became its own franchise due to the focus on fast-paced, stylized combat. The game follows Dante, a "devil hunter" who is the son of the demon Sparda and the human Eva. Sparda was a powerful demon knight who served Mundus, the king of the underworld.
Mundus strove to reign over all of humankind, but Sparda chose the path of justice, defeating Mundus and sealing off the underworld. In an act of revenge, Mundus sent demons to kill Sparda's family. Eva hid 8-year-old Dante and his twin brother, Vergil, and died at the hands of the demons. To protect his sons, Sparda wiped their memories and sent them into the human world to grow up and live "normal" lives (yeah..right).
Now that we're all on the same page, let's get to the pages of this comic, shall we? I'll tell you the gist of the story, and then I'll dish out the good and bad. DmC is Kinda Weird, and the Comic Continues the Weirdness.
Continue Reading →