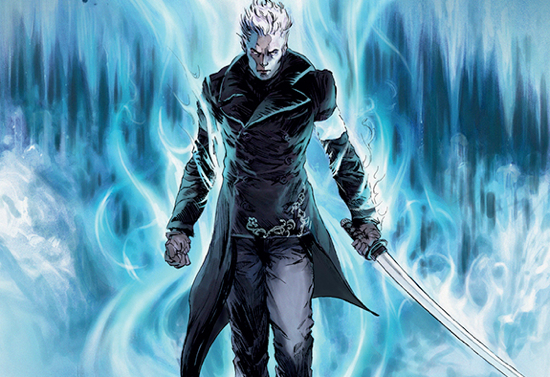 Have you ever played any of the Devil May Cry franchise? If so, then great – you might enjoy the backstory that you get out of this comic. If not, then both the plot and the structure of the comic itself will likely confuse the Devil Trigger out of you. Hang on with me here.
First, Some DmC Background:
Devil May Cry is a video game series that was initially intended to be a continuation of the Resident Evil plot line, but became its own franchise due to the focus on fast-paced, stylized combat. The game follows Dante, a "devil hunter" who is the son of the demon Sparda and the human Eva. Sparda was a powerful demon knight who served Mundus, the king of the underworld.
Mundus strove to reign over all of humankind, but Sparda chose the path of justice, defeating Mundus and sealing off the underworld. In an act of revenge, Mundus sent demons to kill Sparda's family. Eva hid 8-year-old Dante and his twin brother, Vergil, and died at the hands of the demons. To protect his sons, Sparda wiped their memories and sent them into the human world to grow up and live "normal" lives (yeah..right).
Now that we're all on the same page, let's get to the pages of this comic, shall we? I'll tell you the gist of the story, and then I'll dish out the good and bad. DmC is Kinda Weird, and the Comic Continues the Weirdness.
DmC Devil May Cry: The Chronicles of Vergil is intended to serve as a prequel tie-in to the DmC video game that was released in January of this year. The comic tells the story of Vergil and Kat (a human with psychic abilities) before they meet up with Dante in the game. Throughout the book, Vergil is on a mission to accomplish two things: inform humans that they are being controlled by the demons in a parallel universe (known as "Limbo"), and find his brother Dante, who he has not seen since they were separated.
He regularly slays demons that look like people and hacks into the television news network as a masked man (think "V for Vendetta" here), so the police have labeled him as a terrorist. OBVIOUSLY.
Kat, on the other hand, is a relatively normal human..except for the part where she dreams about demons. She can also see them occasionally, which probably makes her a little awkward to hang out with.
Vergil finds Kat when he bombs the drink truck she happens to be near, and revisits her when she's mistakenly thrown into jail as the terrorist's accomplice. It's there that he explains her abilities, shows her the truth about the demons, and asks for her help in traversing Limbo to find Dante so they can save her world. Kat thinks he's a nut job and is reluctant to be used for a family reunion, but she finds herself with little choice when she is transferred to Hellfire, the prison reserved for the most serious offenders.
Vergil believes that Dante is at Hellfire too. And with Kat's help, he can rescue Dante by bringing him out through Limbo. Which basically means that Vergil intentionally bombed that truck so that Kat would be framed and sent to the most hellish and inescapable prison in existence. I guess it's cool to be a total asshole when you're trying to save the world.
Unfortunately, Dante isn't at Hellfire. He managed to use his demonic powers to escape, which leaves Vergil and Kat to craft an impossible escape of their own. In the process, Kat discovers that, in Limbo, Hellfire is not actually a prison..it's a living organism. (You're like, "Wait, what?" and I'm like, "Sorry dude, I didn't write this.") They tear out of the thing, and Vergil wipes their memories so they don't remember that they've developed feelings for one another and can't be used as each other's weakness.
A few months later, Kat shows up at Dante's door to warn him that the demons have found him. The comic ends there, naturally leaving you in the exact situation you find yourself in upon starting the DmC: Devil May Cry video game.
What's Great: The Art
I felt as though Vergil's face was a little off in almost every panel, but I can look beyond that. Patrick Pion drew some great scenes in here. He made the world of Limbo and its demonic inhabitants come alive, and Kat's expressions were always really well done.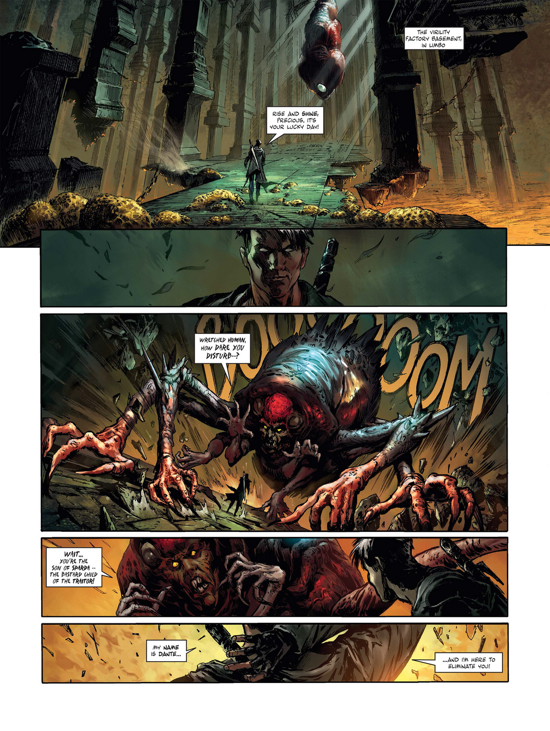 I'll also admit that if you're already familiar with the DmC plot and you've played the most recent installment, then this comic adds entertaining context to some of the main characters. Knowing more about Vergil's temperament and his thing for Kat gives Vergil's frustration at the end of the game some extra meaning (memory wipe be damned!).
What's Not So Great: The Timing
By now, you've probably gotten the point that this comic would confuse a casual reader. So, let's say you're already a fan of DmC. I'm willing to bet that you'd like the story, but still find yourself slightly uncomfortable with the comic as a whole. Why? Because it takes a little time to figure out when things are actually happening. When you're in three different time periods in the first three page flips, it can be a bit jarring.
On a similar note, everything seems kind of smushed together. The plot chugs along pretty quickly. Demons are coming out of the woodworks looking for a fight. Kat goes from not wanting anything to do with Vergil to making out with him in front of a giant projected demon head (that would get ME going..maybe..) in a really short amount of time.
You're sitting there, flipping back a few pages like, "Wait, is this all in the same day? I think this is literally the same day. And here I am thinking MY day is packed because I had to buy groceries AND cook dinner." The pacing of it all could be a little better.
And I'm still wondering why Kat is even required if Vergil can create rifts in Limbo himself. Then why does he need her to find ones that already exist? Am I missing something?
In Short: Not a Bad Story for DmC Fans That Want a Little Extra. Which is good, because chances are that you'll need to read through this comic a couple of times.