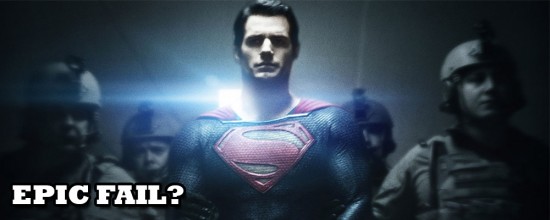 As of the time of this writing it is still January, 2013 and all we have seen from Zack Snyder's Superman film is a couple of teasers and a couple of posters. Why then, you ponder, am I already dismissing the film as a misstep from the Brothers Warner?
I am ready to cast off hopeful anticipation of this film because yesterday the final nail in the coffin was resoundingly hammered in. David S. Goyer spoke to Empire Magazine and had this to say:
"We're approaching Superman as if it weren't a comic book movie as if it were real…  I adore the Donner films. Absolutely adore them. It just struck me that there was an idealist quality to them that may or may not work with today's audience. It just struck me that if Superman really existed in the world, first of all this story would be a story about first contact. He's an alien. You can easily imagine a scenario in which we'd be doing a film like E.T., as opposed to him running around in tights. If the world found out he existed, it would be the biggest thing that ever happened in human history."
Soak that in boys and girls, the most iconic comic book character of all time is going to be presented (once again) as if he were not a comic book character starring in a comic book movie.
Continue Reading →