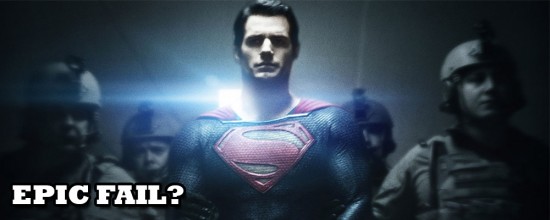 As of the time of this writing it is still January, 2013 and all we have seen from Zack Snyder's Superman film is a couple of teasers and a couple of posters. Why then, you ponder, am I already dismissing the film as a misstep from the Brothers Warner?
I am ready to cast off hopeful anticipation of this film because yesterday the final nail in the coffin was resoundingly hammered in. David S. Goyer spoke to Empire Magazine and had this to say:
"We're approaching Superman as if it weren't a comic book movie as if it were real…  I adore the Donner films. Absolutely adore them. It just struck me that there was an idealist quality to them that may or may not work with today's audience. It just struck me that if Superman really existed in the world, first of all this story would be a story about first contact. He's an alien. You can easily imagine a scenario in which we'd be doing a film like E.T., as opposed to him running around in tights. If the world found out he existed, it would be the biggest thing that ever happened in human history."
Soak that in boys and girls, the most iconic comic book character of all time is going to be presented (once again) as if he were not a comic book character starring in a comic book movie.
Of course there was an idealistic quality to the Donner films, that is like saying there is a tragic quality to ANY Batman film. Superman exists on the polar opposite end of the spectrum from Batman, and it is that balance of light and dark that makes the whole damn DC universe make sense.
If the Marvel universe is about real people thrust into extraordinary circumstances, than the DC universe is about Gods inhabiting the world of men. What makes DC characters work together despite the vast inequity of power from hero to hero to regular man is the moral barometer of the universe. On one end you have Batman who represents the deepest, darkest, most tragic corners of a hero's psyche. He is the line where good starts to become grey and move towards evil.
Way on the other end you have Superman, who represents Truth, Justice, and the American Way. That means something, even if that meaning has moved away from the blind patriotism of its original intent. The credo of Superman represents all of the most pure ideals that the every man,  no matter where you come from, no matter what your history, can make an impact on the world.
What does this comic book over-analyzation have to do with the singular Man of Steel movie that features no DC Superhero except Superman? Unfortunately everything.  Man of Steel is the seed from which all of the future DC 'shared universe' films must grow. Even if the plan is to start 100% fresh in three years, the aftertaste of Superman is going to dictate much of how Justice League will turn out.
Since getting into the game, Marvel Studios has been turning the old school comic book film-making philosophy on its head. Showcasing that the world will embrace a film that does not shy away from its comic book roots. That 'all in' comic book style story telling has ushered in a whole new age for event cinema. The once taboo concept of a shared universe that requires people to see multiple, seemingly unrelated, films to understand the full tapestry is now the hottest Hollywood trend.
Warner Bros. was perfectly set up to capitalize on this new level of audience sophistication. WB owns Marvel's rival DC and has more than enough iconic characters to compete at every step. Warner's also had the added benefit of maintaining ownership of all of its character's film rights. Once Nolan's Batman trilogy was in the can, the sky was the limit for what DC could bring to the bad-ass table.
That was when things starting going horribly wrong. Much like in the late '90s, Warner Bros. got cold feet with their most iconic character. Would people except an indestructible boy scout in a world where violence and darkness is increasingly popular? The answer is yes, one thousand times yes, but alas both times WB answered no.
Back then, in the attempt to make a Superman that people will accept, Warner's tried to give the director of a dark, but popular, Batman movie the reigns to Superman. Everyone agrees that was a terrible move. Now faced with the same choice, WB has made the same mistake again.
Even though Christopher Nolan is not directing Man of Steel, the film will have a distinct Nolan edge. The character will be brooding, spend much of his time not being a superhero, and ultimately end up a shallow husk of his comic book counterpart. The Nolan approach worked for Batman because of where the Dark Knight sits on the super hero spectrum, the same style will not work on the polar opposite.
Ultimately this would not matter as much if Man of Steel was a tangent on the character, an elseworlds variant on the story that exists in a vacuum. But we all know this is not meant to be a one-off. This film is supposed to be the lynch pin in the entire cinematic DC universe for at least the next decade. If you start on a weak foundation, the whole thing will crumble into a depressing mess.
I am not upset because Man of Steel might suck, I am upset because Man of Steel might only be the tip of the suck iceberg.
Every risk Marvel took, every pre-convinced Hollywood notion they broke down, laid the groundwork a generation of fans to enjoy quality comic book cinema for the next decade. DC has seen this new path of success and decided to give it another go down the same sad road they already tried.
'We are going to make it more real, because that worked for Batman and you nerds love Batman' – Fictional WB exec whom I made up, but probably really exists.
Every frame of Man of Steel reeks of that fictional quote, and it is a shame. The most iconic comic book character of all time once again finds himself unable to star in a film that respects his fans or his origins.
I hope I am dead wrong, I hope Zack Snyder knocks it out of the park. I just can't see it right now, what we are getting reminds me of the age old adage: Those who forget the past are doomed to repeat it.
Let us know what you think about the direction the upcoming Superman film is taking. We would love to hear how right (or more likely how wrong) you think I am on twitter, @TheFlickcast, or in the reply section below!