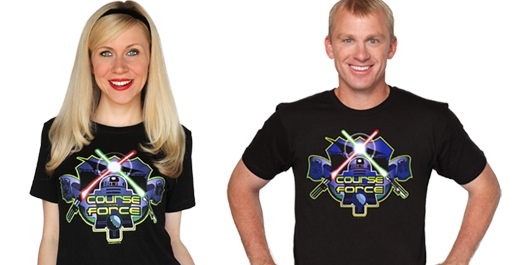 The race to Comic-Con is on. The Star Wars themed Course of the Force returns again this year on July 9th and with Her Universe as the official merchandise partner. Her Universe will be selling men's and women's apparel, including the new Course of the Force shirts and sweatshirts, at the relay events in San Francisco, Santa Monica, Huntington Beach, and Oceanside Pier.
The apparel company will also have a booth at San Diego Comic-Con International, where the lightsaber relay will conclude on July 16th. Her Universe founder, Ashley Eckstein will also return as co-host with The Nerdist's Chris Hardwick to cover the event.
"It's an honor to return as a co-host and merchandise partner for Course of the Force," said Eckstein. "This is truly a magical and Force-filled event. It was also a pleasure to work with Russell Walks. We are so lucky that he donated his time and talent to create this amazing design!"
An Olympic torch-style relay, Course of the Force begins in at Skywalker Ranch in San Francisco and makes its way down to San Diego to kick off Comic-Con. The event benefits the Make-A-Wish Foundation, and $5 of every Her Universe shirt and $10 of every hoodie will go to the foundation as well. The official shirts and hoodies bear the new Course of the Force logo as designed by artist Russell Walks.
Continue Reading →