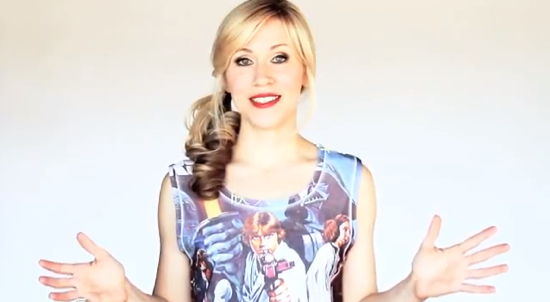 In celebration of Star Wars Day on May 4th, geek chic merchandise line Her Universe will be debuting six new Star Wars fashion pieces exclusively on Hottopic.com. Included in the release are several new tops and, for the first time, dresses featuring a galaxy far, far way. Featured characters include Boba Fett and Darth Vader as well as the Rebel trio, Han Solo, Luke Skywalker, and Princess Leia.
This is the second year that Hot Topic has teamed up with the fangirl line created by actress and entrepreneur Ashley Eckstein. Star Wars is in fact very dear to Eckstein's heart; she was the voice of Ahsoka Tano on Star Wars: The Clone Wars.
"I am thrilled to be working with Hot Topic again to celebrate May the 4th Be With You," said Ashley Eckstein. "I am also excited to debut a new design with one of our favorite guest designers, Denise Vasquez. Denise brought her unique 'Day of the Dead' inspired style to a new design featuring Boba Fett."
In addition to the new pieces, the first 500 customers who purchase a Star Wars by Her Universe item will also receive a free Star Wars cinch sack that is also designed and produced by Her Universe. The merchandise website will also be offering 20% of all current Star Wars apparel.
Be sure to check out Hottopic.com on May 4th and also stay plugged in to Starwars.com for fan-themed content and giveaways. And, of course, May the 4th Be With You.