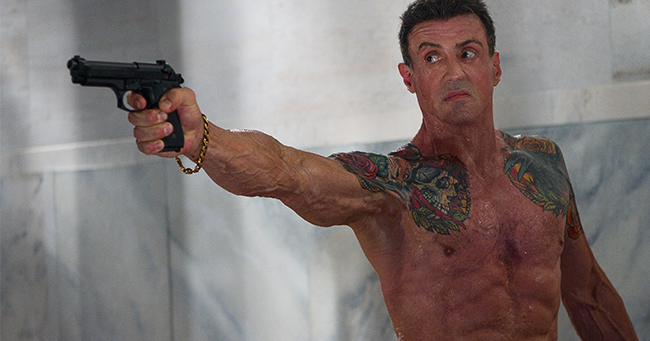 Walter Hill and Sylvester Stallone? I'm in. Walter Hill and Louisiana? Double in. Christian Slater and Mr. Eko as the bad guys and explosions and huge flailing boobies? This is already the best movie of the year.
What's there to say? Stallone is Jimmy Bobo, a Louisiana-based hitman whose latest job goes south after his partner is taken out. If that's not enough, the former partner of their target (Sung Kang) heads down to the bayou to find out who set up the hit.
After a brief ruckus in the parking garage, the two team up despite a mutual dislike. The investigation uncovers a web of corruption that apparently everyone in New Orleans is in on, from the jazz bands prowling the filthy streets to the cultural elite, ably represented by Marcus Baptiste (Christian Slater) and Morel (Adewale Akinnuoye-Agbaje).
Add to that Stallone's incredibly sexy daughter (Sarah Shahi) — the tattoo artist who can kick some tail on her own, an angry, knife-wielding henchman, and exploding houses, and you have the plot of the movie.
Continue Reading →