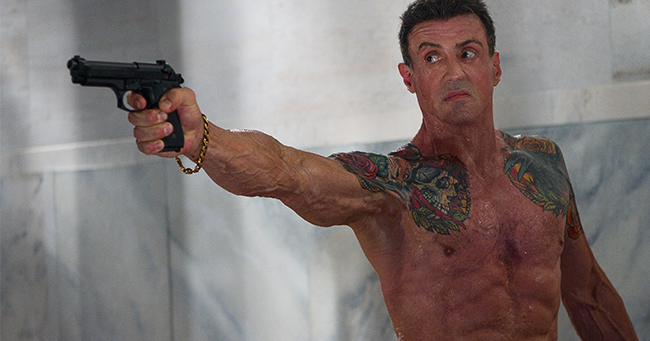 Walter Hill and Sylvester Stallone? I'm in. Walter Hill and Louisiana? Double in. Christian Slater and Mr. Eko as the bad guys and explosions and huge flailing boobies? This is already the best movie of the year.
What's there to say? Stallone is Jimmy Bobo, a Louisiana-based hitman whose latest job goes south after his partner is taken out. If that's not enough, the former partner of their target (Sung Kang) heads down to the bayou to find out who set up the hit.
After a brief ruckus in the parking garage, the two team up despite a mutual dislike. The investigation uncovers a web of corruption that apparently everyone in New Orleans is in on, from the jazz bands prowling the filthy streets to the cultural elite, ably represented by Marcus Baptiste (Christian Slater) and Morel (Adewale Akinnuoye-Agbaje).
Add to that Stallone's incredibly sexy daughter (Sarah Shahi) — the tattoo artist who can kick some tail on her own, an angry, knife-wielding henchman, and exploding houses, and you have the plot of the movie.
That's only 174 words, and I've already blown through the recap. What's left is performances. Having gone through the Rocky films recently, my appreciation for Stallone only gets better, and though the guy is deep in his 60s, he passes for a tough guy with ease. I liked The Last Stand, but Schwarzenegger was definitely showing his age. Stallone defies his. There's also a great touch of Stallonian dialogue near the end when he gives a quick summary of his life as a father.
Sung Kang (Fast Five) has a good rapport with Stallone, and there's a nice touch of tension between the two — after all, Kang's going to have to arrest Bobo after this is all through.
Slater plays the slick and sleazy role as well as he ever did, and Akinnuoye-Agbaje, with his dual crutches, has the deadly air of a classic Bond villain (Live and Let Die is a favorite, and there's more than a few similarities).
But at its heart, this is an action movie through and through. Walter Hill is no stranger to the game, having directed some the finest tough-guy genre films of the 1980s (The Long Riders, Southern Comfort), and he keeps the pace flowing. There is a tendency for the fight scenes to devolve into outright erratica, but on the other hand, there's a distinct sense that, at any time, everyone can be killed.
It also shares a vibe with William Friedkin's excellent Killer Joe — double-crosses aplenty, corrupt cops, nasty hitmen, and plenty of voluptuous nude women. (In fact, with Hill, Friedkin, and I think Frederick Wiseman fits in there, too, with Crazy Horse, I think we're entering into a new age of the Dirty Old Man Directors — and are better for it).
In all, it's a fun film, just the right length, and yes, there's a lot of bullets to the head.