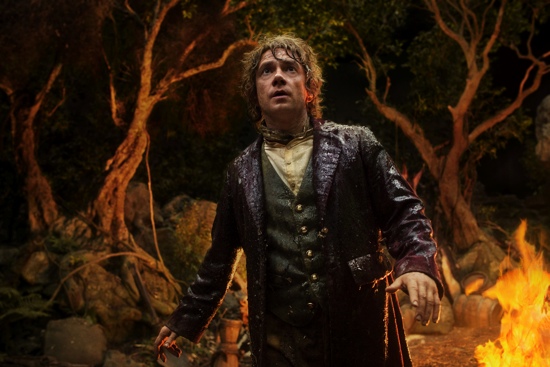 It's been nearly ten years since Middle Earth unfurled across the screen, and in that time, the Lord of the Rings films have cemented their place in cinematic history. The actors have aged, technology has evolved, and the influence of Peter Jackson's trilogy is evidenced in all the three-plus-hour epics we've seen over the past decade.
Jackson slips back into this world seamlessly, elevating the grandeur but also reigning it in; instead of army battles and global chaos pitting kings against wizards and demons, this is a merrier tale of Bilbo Baggins, Gandalf, and a band of dwarves hunting a lost treasure guarded by the fierce dragon Smaug.
Smaug, we're told (and cleverly not shown until the very end) attacked the thriving dwarf city of Erebor years ago, evicting dwarven kind from their homeland (writing that I'm starting to wonder if there's a parable here, big noses and all…) and forcing them to have it out with every other race in Middle Earth, from the orcs at Moria (the chief of whom kills the leader dwarf, Thorin's, grandfather and becomes the main antagonist) to the elves at, uh, Elvania (the elves chose not to help the dwarves in the battle against Smaug).
Continue Reading →