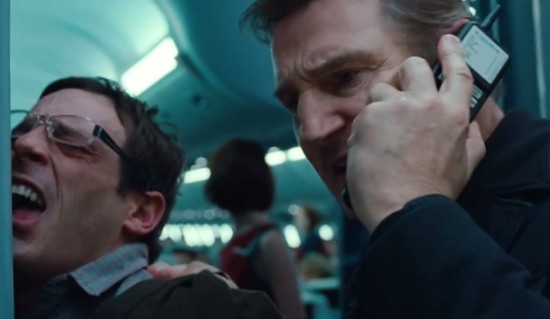 Liam Neeson is Bill Marks, a U.S. Federal air marshal with the obligatory checkered past and a delightful host of vices. Midway through a trans-Atlantic flight he receives a text message from an untraceable number that claims in 20 minutes someone on the plane will die…unless a $150 million is deposited into a special account. And Bill, with the help of stewardess Nancy (Michelle Dockery) and plucky passenger Jen (Julianne Moore) must uncover the identity of the potential killer/hijacker.
That's all you need; if you want to know how the rest of the movie plays out, just imagine everything you can do with that premise, as the passengers gradually become more and more aware of the situation and Marks's control gradually diminishes – or, better yet, see the film.
Director Jaume Collet-Serra (Orphan, Unknown) maintains a consistent feel of paranoia by keeping his camera close and confined to the actors' faces, barely giving the audience a chance to breathe and, early on, lingering on a handful of passengers to playfully suggest that any one or two or all of them could be the culprit. Even before the mystery begins you're already suspicious, and while I was hoping for the villain to be revealed as the little girl's teddy bear (Spoiler: It's not), it wasn't too much of stretch, given Collet-Serra's insinuation that everyone on this damn plane must be hiding something.
Continue Reading →