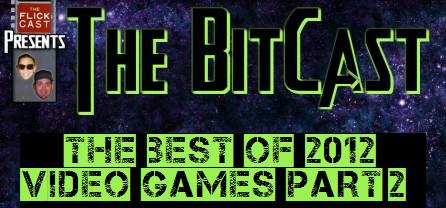 Thanks for coming back for Part 2 of The Flickcast Presents The Bitcast Best of Gaming 2012. Click here to see yesterday's part 1 and keep coming back the rest of the week for more awards including the Game of the Year being awarded on Friday.
Most Awkward Romance – Halo 4
So thankfully we got a year off from the awkward bromance of Gears of War between Dom and Marcus as well as a lack of fistbumping from Salem and Rios in Army of Two. What we did have was a love story between a stoic soldier and the lunatic AI woman living in his head. (I know, when I put it that way it makes it sound like I have no soul.)
In Halo 4, players were able to see a true evolution in the character of Master Chief, John 117, as he began showing actual human emotions due to his connection to the AI chip that had been living in his suit with him for the better part of a decade. Like most women that a guy has lived with for that long (while he spent most of his time asleep), Cortana has started to go a little crazy.
Continue Reading →