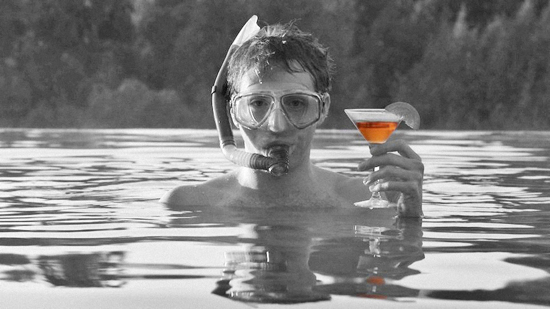 Much Ado About Nothing is Joss Whedon and William Shakespeare at their finest, and is certainly one of the most delightful films I have seen this year. Evoking the very best of a 40s screwball comedy, the entirely black-and-white picture has a superb mix of elegance and entertainment that will please all moviegoers, not just Elizabethan (and Whedon) fans. The film crackles with a palpable energy that draws you in to its hijinks and effortlessly makes you feel a part of the romance and drama.
From the start it is clear that this is not a typical modernization of Shakespeare. Whedon uses silence and body language to great effect so that we know the disappointing and hurtful past that lingers over the sharp-tongued Beatrice (Amy Acker) and smug Benedict (Alexis Denisof) before either even speaks. In truth the pair is too stubborn and snarky to admit any fondness for each other and so their friends conspire to bring them into "a mountain of affection."
This witty, simmering love is contrasted by the young, innocent love shared by Hero (Jillian Morgese) and Claudio (Fran Kranz). Their impending nuptials are threatened by the villainous Don John (Sean Maher), who is played with the perfect blend of treachery and sexiness by Maher. Don John wants to wound the lovers but also destroy Hero's father Leonato (Clark Gregg), who is hosting everyone at his manor home.
Continue Reading →