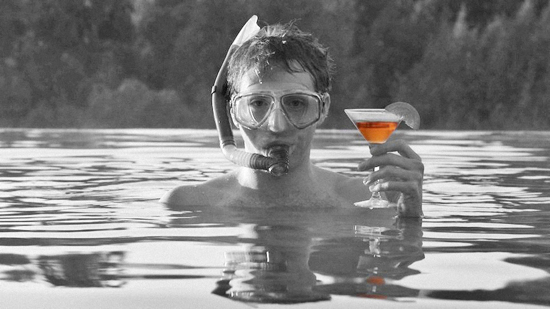 Much Ado About Nothing is Joss Whedon and William Shakespeare at their finest, and is certainly one of the most delightful films I have seen this year. Evoking the very best of a 40s screwball comedy, the entirely black-and-white picture has a superb mix of elegance and entertainment that will please all moviegoers, not just Elizabethan (and Whedon) fans. The film crackles with a palpable energy that draws you in to its hijinks and effortlessly makes you feel a part of the romance and drama.
From the start it is clear that this is not a typical modernization of Shakespeare. Whedon uses silence and body language to great effect so that we know the disappointing and hurtful past that lingers over the sharp-tongued Beatrice (Amy Acker) and smug Benedict (Alexis Denisof) before either even speaks. In truth the pair is too stubborn and snarky to admit any fondness for each other and so their friends conspire to bring them into "a mountain of affection."
This witty, simmering love is contrasted by the young, innocent love shared by Hero (Jillian Morgese) and Claudio (Fran Kranz). Their impending nuptials are threatened by the villainous Don John (Sean Maher), who is played with the perfect blend of treachery and sexiness by Maher. Don John wants to wound the lovers but also destroy Hero's father Leonato (Clark Gregg), who is hosting everyone at his manor home.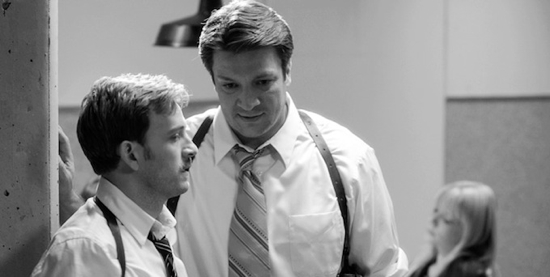 The cast as a whole does a marvelous job navigating the rhythm and language of Shakespeare's words, even as the dialogue, at times, reaches rapid fire status. No one or two people carry this film; it is a team effort at its absolute best. Nathan Fillion's inherent goofiness shines perfectly in the bumbling Dogberry while Reed Diamond's Don Pedro is especially charming. Denisof and Acker are so enchanting together, that I defy anyone to watch this film and not fall in love with them.
Shot in just 12 days, entirely at his home in Southern California and while in the midst of Avengers post-production, Much Ado proves there really isn't anything Whedon can't do. Whether he knows it or not, this film sets a new standard for big name directors to create passion projects that are as high a quality and engaging as their summer blockbusters.
What makes Much Ado such a pleasure to watch is that everyone is clearly having a fantastic time. Whedon chose his cast well from his pool of friends and colleagues, and he is renowned for getting audiences to connect with his characters whether they are the captain in a space western, a British demon hunter, or the liaison to a bunch of superheroes. So what we see in Much Ado is not only incredibly talented actors but also some who, for long-time fans of Whedon's work, feel like old friends.
Whether in large group scenes, quiet dialogues together, or even by themselves, the players exude a joy and charm that draws you in to their world.  Their excitement and enthusiasm is infectious and we feel it deeply, whether it comes as jealousy, humor, passion, love or heartache. Much Ado snags you immediately to be a guest at their party and you are all too happy to join.
Much Ado About Nothing is in theaters in LA, NY, and San Francisco June 7 and theaters nationwide June 21.