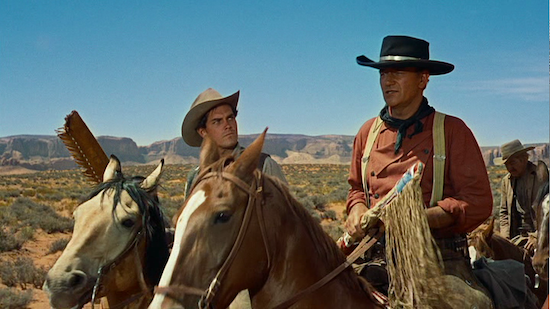 Welcome back to another edition of Western Wednesdays Again. This week we're highlighting the John Ford classic The Searchers.
I've been anxious to revisit The Searchers. I haven't seen it in years, and it's the kind of film that's referenced so often that it practically buries an individual memory.
Am I remembering actual film, or simply George Lucas or Quentin Tarantino's visual quotation of it? The lines can really blur. So when it popped up online recently, I grabbed the chance to watch it again.
This is a fascinating film, though I'm not sure it's a particularly enjoyable one. It goes without saying that it's visually stunning — the sunsets, the famous door frame shots, those endless expanses of Monument Valley, a snowbound herd of buffalo.
You've seen The Searchers even if you've never actually sat down and watched it. Every shot has been imitated a dozen times over by other directors in other films, but that doesn't make them any less stunning.
But I've never felt the story was entirely sure of itself. Is Ford criticizing the treatment of Native Americans and the racist opinions of his characters? Or does the film uphold them by its uneasy worship of John Wayne's Ethan Edwards, and its laughter over Marty Pawley's abuse of his "wife"? Is it saying that violence merely begets more violence?
Continue Reading →