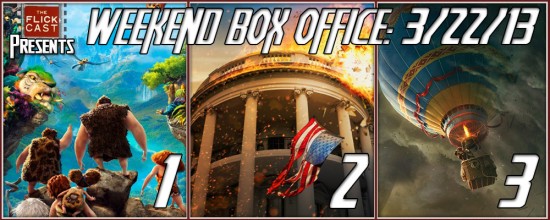 There used to be a rule in feature animation. PIXAR was the king of quality and they had a perfect record, Dreamworks had Shrek and a whole train load of Disney and PIXAR knockoffs with star-studded casts. Most of the times those films were turds, and provided a sharp contrast that might have aided in PIXAR's incredible win streak by providing such horrible comparison.
Well that was the past boys and girls, because the quality gap has been dwindling faster than The Croods just past 100 Million at the international box office. Dreamworks newest animated feature had a solid-to-great opening weekend bringing in over $44 Million. Which puts the film on par with other recent Dreamworks its How to Train Your Dragon and Megamind.
A big weekend was probably expected for The Croods, however, the weekend was not without its shocker. The action flick Olympus Has Fallen surpassed even the most generous of projections to bring in over $30 Million over the weekend. Which is a huge win for an action-centirc film in a year where so many have died horrible box office deaths.
Continue Reading →