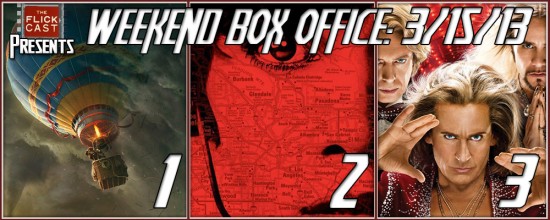 Coming as a surprise to no one, Oz: The Great and Powerful has come in first in the weekend box office for a second weekend in a row. The film is performing strong as the first blockbuster of the year, even if it is not reaching Alice in Wonderland or Hunger Games heights.  Still the film should get well over $200 Million domestically and exist as another nice win for Raimi and Disney.
In second place, the Halle Berry thriller The Call had a surprisingly strong debut. The film brought in just over $17 Million and is one of the stronger Halle Berry starring openings in quite a long time. The movie was cheap to make and easy to market so this is a really solid early year win for all of the people involved.
The winning stops at number two as the opening of The Incredible Burt Wonderstone is anything but incredible or wonderful. Apparently the film is less funny than my word play and connected with audiences thusly. Comparing the film to other high concept comedies it falls fall below its peers. In fact it barely made 2/3rds of what the Will Ferrell bomb Semi-Pro made a few years ago.
The film brought in just over $10 Million this weekend and will struggle to make much more money in the coming weeks cementing the film has a massive black eye on the generally sterling box office reputation of Steve Carrell and Jim Carry.
Next weekend sees the releases of two potential heavy hitters.  The next Dreamworks animated feature, The Croods, hits screens and looks to continue the solid win streak for the animation studio emerging from the subtle cracks in PIXAR's armor. Playing counter programming to that is Olympus Has Fallen which is best described as Die Hard in the White House. Based on the recent performance of a Die Hard and other recent action heavy flicks, this one has a tough road ahead of it.
It will still make more money than The Incredible Burt Wonderstone though… seriously that opening even makes Jack the Giant Slayer seem less putrid by comparison.