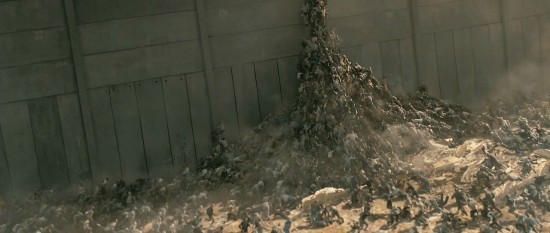 World War Z is probably the most solid zombie flick we're going to get for a while. The characters are well-defined, the acting is better than it needs to be, the look is good, and the story is constructed as a pretty compelling mystery. That's both a plus and a minus for the film. The detective aspect is an innovative take on a genre that already has, within its endless sub-genres, the romantic comedy (this year's Warm Bodies), and the movie wastes no time getting straight to it. On the other hand, its commitment to the mystery narrative makes the action sequences feel like they were brought over from another movie.
When Gerry (Brad Pitt), the ex-UN agent (his original job function is never made explicitly clear) gets a lead that takes him to Israel, he meets up with an official who apparently foresaw the zombie outbreak and constructed a massive wall around Jerusalem. The guy's reasoning is simple: "We ignored warning signs before and suffered because of it, this time, I figured, 'What the Hell?'"
As soon as Gerry's finished asking questions, someone in the crowd starts performing an impromptu song. No reason, just because. And the static from her microphone alerts the zombies outside the city, who form a massive pile and (SPOILER, though it's in the trailer) spill out over the wall and overtake the city.
Continue Reading →