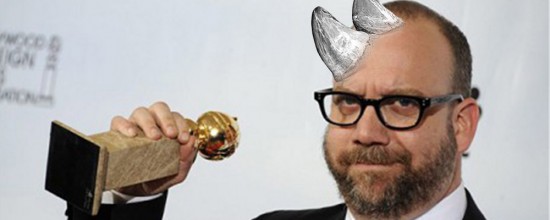 The Amazing Spider-Man was a divisive film. Some people thought it was a fair reboot that rejuvenated a popular, if tired, franchise. While others felt a resounding hollowness from a, seemingly unnecessary, reboot of a franchise that was still reasonably healthy. Despite the mixed reception from the Spider-faithful, the film made gobs of cash and a sequel is fast approaching.
We thought we had a good handle on the villainy of ASM 2 with the assumed inclusion of Norman Osbourne and Jammie Foxx as an unorthodox Electro set to conflict with the web-head. However a surprise twist to the film's rogues gallery might just have been uncovered via a Hollywood Reporter scoop:
Paul Giamatti is in talks to join The Amazing Spider-Man 2 as the villain known as The Rhino… The Rhino first appeared in Amazing Spider-Man #41in 1966 as a thug from a Soviet Bloc country who wore a superhuman suit that made him invulnerable while giving him superstrength and superspeed. It also had a deadly horn on top.  
What What What?
This film is certainly heading into some bold and interesting directions. Not only is the one-two punch of Rhino and Electro rather random, but the actor choices the casting department targeted for these roles are either brilliant or completely nutter-butter.
Continue Reading →