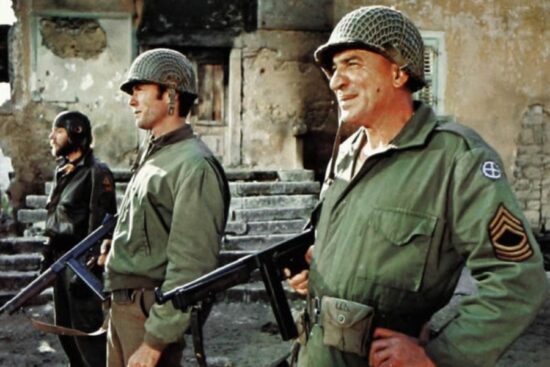 As we did with Western Wednesdays Again, we're bringing back another favorite feature: War Movie Mondays. And kicking things off is 1970's Kelly's Heroes. Written by Douglas Barnett, War Movie Mondays explores a different film in the "war movie" genre each week with him offering his unique take on the film, details about the production and whole lot more.
So, we're pleased to bring you the first installment of what we're now calling "War Movie Mondays Again." Yes, we know, another great title. How do we do it? Talent. Enjoy!
– Chris
Kelly's Heroes is a war film that has all the great elements of an old fashion, rousing epic that keeps your attention all the way through. Set in the late summer of 1944 as the allies swept across occupied France, Kelly (played by the ever cool Clint Eastwood) and his squad of screwball infantry men find out that the Germans are holding over sixteen million dollars worth of gold bars in a bank thirty miles behind enemy lines.
Tired of the politics of infantry life and the gross inefficiency of their Captain, Kelly and the rest of the squad run by tough sergeant 'Big Joe' (Telly Savalas), cook up a scheme to go behind the lines with three M-4 Sherman tanks to rob the bank. As the movie poster states: "They set out to rob a bank and damn near won a war instead."
With Kelly's Heroes, Eastwood began his second collaboration with director Brian G. Hutton, who had directed him a year earlier in the highly successful Where Eagles Dare (1969) — a movie which solidified Eastwood's status as a major box office star. One thing making Kelly's Heroes such an interesting film is the fact it was released in 1970, just as the U.S. was beginning to downsize its presence in Vietnam.
Other films such as M*A*S*H, which came out in the same year, mirrored that of the country's current attitude towards the war in Vietnam and was considered to be escapist entertainment. 'Oddball' (Donald Sutherland) graces the screen as World War II's only hippie who commands the three Shermans who accompany Eastwood's squad to steal the gold.
Continue Reading →