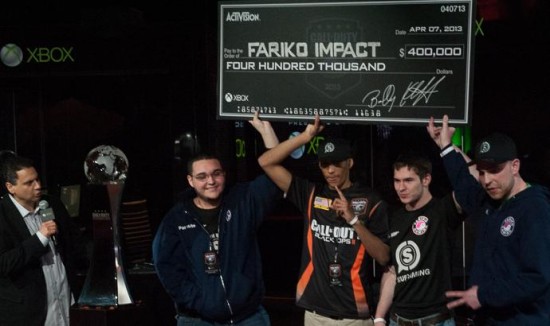 This past weekend, 32 teams of four took up arms in the ultimate XBox Call of Duty Championship. In the end, it was the team Fariko Impact that took home the gold and $400,000 cash prize. Damon "Karma" Barlow, Adam "Killa" Sloss, Marcus "MiRx," and team captain Chris "Parasite" Duarte (collectively known as Fariko Impact) faced off against EnVyUs in the final round Sunday after the three day tournament.
Fariko Impact would emerge victorious with the winner's share of the $1,000,000 total pot. But don't feel too bad for EnVyUs as the second place team would walk home with $200,000 themselves and third place team OpTic Gaming taking $120,000 with them.
Also revealed this past weekend alongside the images of the new Uprising DLC Map Pack was the latest Replacer trailer. After the original Replacer was revealed, it would only be a matter of time before more Call of Duty: Black Ops II players would need to call upon the services of these men in black.
This time, original Replacer Peter Stormare is joined by J.B. Smoove. This time, as you'll see in the trailer below, the Replacers find themselves in even more awkward scenarios, the kind it takes two people to tackle.
Continue Reading →