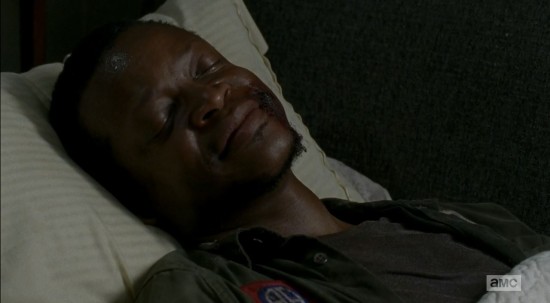 Gareth is doing a lot of talking to Bob. The rantings and ravings of a mad man I suppose. He tells Bob that he saw Daryl and Carol drive away. He threaten to go after Sasha next, saying that girls taste better than guys.
He gets mad when Bob won't react to him, yelling about how he's being a human being by talking to Bob. Bob is crying, and then starts laughing hysterically. Bob shows them the bite on his shoulder, shouting "I've been bitten you stupid pricks – I'm tainted meat!"
Sasha confronts Gabriel, now that Bob, Daryl and Carol are missing. Gabriel swears that he doesn't have anything to do with this. Sasha wants to know who is out there, and where their people are.
Rick accuses Gabriel of working with someone else. He asks him about the note carved into the church siding (You'll burn for this). Gabriel's story is that he always locked the church doors at night. When everything went down, and his congregation came for refuge, the doors were still locked.
Continue Reading →