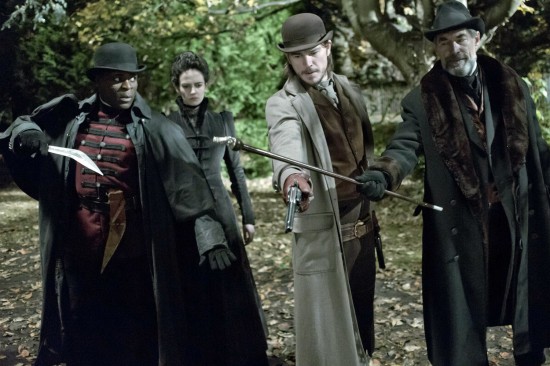 Penny Dreadful, Showtime's new series, has all the ingredients to become a cult sensation – a very weird cult sensation. I can just imagine the fan fiction this intriguing, but strange, horror show will produce. Set in Victorian England the series features Vanessa Ives (Eva Green), who is a spiritualist/medium of great power. Ethan Chandler (Josh Hartnett) is the American Wild West sharp shooter hired to help her and Sir Malcolm Murray (Timothy Dalton) who is combing the underworld of London to find his missing daughter, Mina. This world is filled with supernatural creatures, swathed in violence and psycho erotic moments, where psychic powers are real and everyone has a secret, or two.
John Logan (Skyfall, Hugo), who created Penny Dreadful and wrote all eight of the first season episodes, surrounds his characters with other literary legends: Victor Frankenstein (Harry Treadaway) and his monster/companion, along with dilatant Dorian Gray (Reeve Carney) all wander this macabre world. And in the second episode (Séance) we meet the wild, Irish prostitute Brona Croft (Billie Piper) who is entangled in both worlds.
The possible connections to other literary, historical characters and events are endless. This has made some critics suggest it's too close to the premise of The League of Extraordinary Gentleman (the wonderful comic book series/graphic novels by Alan Moore/Kevin O'Neil, not the dreadful movie version.) This literary device has been used many times, but to me Penny Dreadful has more of a flavor of Kim Newman's Anno Dracula.
Continue Reading →