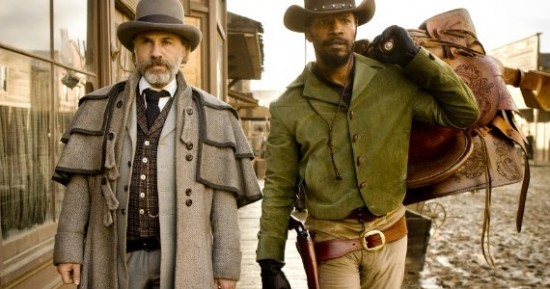 About 15 minutes in I decided I wanted some popcorn, and upon looking at my phone, it appeared that an hour and a half had passed. From what I understand, that hasn't been the standard reaction across the Internet, but for me at least, Django was incredibly easy to watch, and not for a moment did I want it to end.
The structure is right in tune with many Spaghetti Westerns (itself being one more in a long series of unofficial sequels to Sergio Corbucci's 1966 film Django): the compacted serial with each episode lasting a half hour or so. There's an overarching plot, but just as much does it like to get sidetracked in subplots.
The main story centers around Django (Jamie Foxx), a runaway slave many times over who only wants to be reunited with his wife. He has the good fortune of meeting up with Dr. King Schultz (Christoph Waltz), a German dentist turned bounty hunter, hot on the trail of the notorious Brittle Brothers. Django, a former acquaintance of the Brittles, is the only man alive who knows what they look like, and Schultz, gleefully operating within the laws and well versed in all the loopholes, buys Django to help him hunt down the bounty.
Continue Reading →