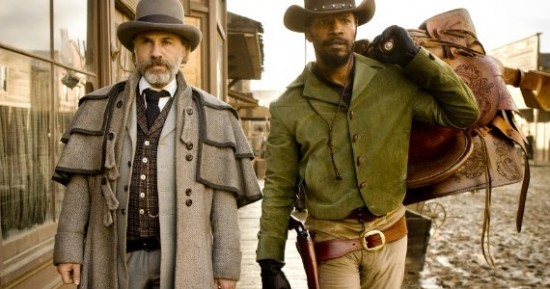 About 15 minutes in I decided I wanted some popcorn, and upon looking at my phone, it appeared that an hour and a half had passed. From what I understand, that hasn't been the standard reaction across the Internet, but for me at least, Django was incredibly easy to watch, and not for a moment did I want it to end.
The structure is right in tune with many Spaghetti Westerns (itself being one more in a long series of unofficial sequels to Sergio Corbucci's 1966 film Django): the compacted serial with each episode lasting a half hour or so. There's an overarching plot, but just as much does it like to get sidetracked in subplots.
The main story centers around Django (Jamie Foxx), a runaway slave many times over who only wants to be reunited with his wife. He has the good fortune of meeting up with Dr. King Schultz (Christoph Waltz), a German dentist turned bounty hunter, hot on the trail of the notorious Brittle Brothers. Django, a former acquaintance of the Brittles, is the only man alive who knows what they look like, and Schultz, gleefully operating within the laws and well versed in all the loopholes, buys Django to help him hunt down the bounty.
Schultz takes a shine to Django, seeing him as a fellow outsider, and, upon learning that the name of Django's wife is Broomhilda, the American incarnation of the Germanic hero Seigfried. He also learns that Django's real handy with a gun, and the two partner up for the winter: Schultz gets a rootin'/tootin; gunslinger and in turn agrees to rescue Broomhilda (Kerry Washington) from the clutches of Calvin Candie (Leonardo DiCaprio), owner of the third largest plantation in Mississippi, Candyland.
The rest is dedicated to various bounty missions, and Tarantino makes full use of sweeping Fordian locations, from the snow-glazed mountains of McCabe & Mrs. Miller and Jeremiah Johnson to the searing deserts of Leone; from rotted-out cabins to plush mansions; from light laughs to grim violence. The film is brutal at times, but Tarantino retains his uncanny ability to effortlessly shift tones and invert the feel of a scene. There's a moment where Django meets up with a former slavemaster.
Foxx is dressed in a positively goofy bright blue shirt with a puffy collar — the 1858 equivalent of Austin Power's famous suit — and seeing the man triggers a grainy flashback of him viciously whipping Broomhilda. In slow, agonizing motion, Django disarms him, and proceeds to beat the man to death with his own whip. It has no right to look anything but silly, and yet you feel every ounce of wretched pain.
Another has Schultz swaggering into town and calmly murdering the sheriff. With the entire population training their guns on him, he cheerfully talks his way out of it, something Schultz does a lot, and you can almost see Tarantino smiling as each lines fades from Waltz's mouth. For that matter, the climatic shoot-out starts over something so minor, you can hear the author cackling at how easy it is to incite violence.
This is all for fun anyway, and Tarantino here is a bit more relaxed; where Inglourious Basterds was as tightly plotted and self-contained as movies get, Django indulges in its minor and occasionally major excesses. Do we need a scene where the members of a lynch mob argue about their masks? Or any of the sequence in Daughtery, Texas, for that matter?
Or, as has been brought up, the final act? The answer is, of course, yes. The reason, of double course, is because they're there. It's entertaining, and to remove it from the film would be like removing the shot of blood spraying over the cotton or Schultz's ornate speech: The gloss is much of the message.
And yet, Tarantino balances it out with Django himself, being perhaps his most realistic — and, ironically, least talkative — character. He may have some superhuman skills with a gun, but his speech and purpose are simple and direct in striking contrast to everyone else.
Finally, there's Samuel L. Jackson as Stephen, the head house slave of Candyland. A nastier version of an Uncle Tom or Remus who considers himself somewhere between black and white, detesting Django's freedom and the rest of the slaves. I don't think Tarantino's making a political or historical point here, saying who was more responsible for slavery or whatever, but in the end it is Stephen who becomes the true antagonist.
Instead I think it's more intended as a counterpoint to Django. Where Stephen is chatty, servile, and loving of his master, Django is quiet, dominating, and loves killing the white folk. And where Stephen is a rickity old slave and talks in a mix of Southern dashed with gangster, Django is steady and largely without accent.
In all, it's fun. Tarantino's films have always been a celebration of genre, and since Jackie Brown his targeted genres have been more specific. I'm glad to see him play with the Western and turn his eye toward capturing landscapes and locations; indulge in costumes and dialects; and create his own little world in every town and mansion that's visited. And there's more action than there was in Inglourious Basterds, too.