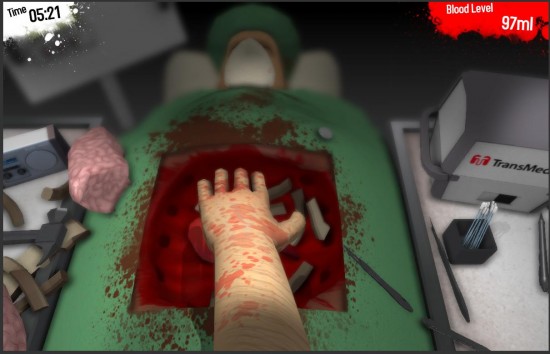 If you're a fan of Let's Plays or Rage Quit videos on YouTube, you'll probably already be well versed in this game. But if not, boy do we have something in store for you. Developed back in January at the 2013 Golden Game Jam in just 48 hours, Surgeon Simulator 2013 is far from a realistic simulation as its name might suggest.
In it, players are tasked with performing a heart transplant on a patient. There is a slow loss of blood to put players under a time constraint but as they make mistakes, the patient loses blood more rapidly. The original version is currently a free to play browser based game.
What is interesting about Surgeon Simulator 2013 is that the original version isn't what one would traditionally call a "good game". In essence, it is actually pretty broken. Not to knock the development on it because it is a pretty epic creation in mechanics and graphics in just two days time, but the controls leave a little something to be desired. But somehow that has become the appeal of the game.