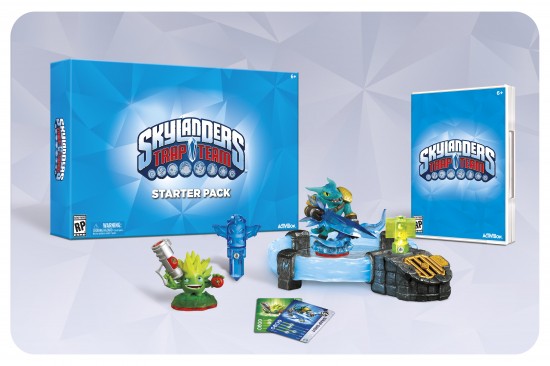 Only a few weeks after Disney decided it was time to shoot a volley in the smart toy war by introducing the Avengers to Disney Infinity, Activision has fired back with a premiere for the latest Skylanders sequel. Again, focusing on innovation with gameplay implications, Skylanders Trap Team is coming to systems in October.
As you'll see in the trailer below, Skylanders Trap Team introduces a new element to the series. It doesn't take a genius to figure out this means traps. But it isn't just a matter of trapping defeated foes. This game encourages players to take those villains and use them for good. Boasting 60 new Skylanders and 40 trappable villains, this could be the largest release of Skylanders to date.
It'll be interesting to see how the traps work but it the trailer hints that specific traps work on specific enemies which means to catch them all, you have to buy them all too. How they are packaged will be interesting though. Skylanders may come paired with a trap or maybe a trap pack will be created with four or five traps sold together. Regardless, Activision has just renewed their license to print money.
Some characters we know are coming can be seen in the screens below. Chopper, Foodfight, Whallop and SnapShot join the Skylanders ranks while old baddie favorite Chompy Master looks to be one of the enemies that can be turned to the forces of good.
"When we created Skylanders, we invented a new category of play and, in the process, disrupted two industries – videogames and toys.  With each new Skylanders game, our commitment to continuous, disruptive innovation has led to surprising and delightful new ways for kids to play with toys and games," said Eric Hirshberg, CEO of Activision Publishing, Inc. "With Skylanders Trap Team, we're no longer just letting kids bring their toys to life inside the game anymore. This time, we're letting them pull their toys out of the game as well. We are confident this installment of Skylanders will once again redefine what's possible at the intersection of the physical and virtual worlds."
"When Activision first introduced the Skylanders franchise in 2011, it promised to redefine play bymerging the physical and digital worlds. The company delivered on that pledge with three blockbuster titles – all of which have been named to the annual Toys"R"Us Holiday Hot Toy List -and is now poised to do it again with the introduction of Skylanders Trap Team," said Richard Barry, Executive Vice President, Chief Merchandising Officer Toys"R"Us, Inc. "With Skylanders Trap Team, Activision is  reversing the magic of 'toys-to-life,' allowing kids to bring characters out of the digital world and into the physical world for the first time. We're thrilled to continue as a marquee destination for Skylanders products, providing a comprehensive, global marketing and merchandising program, including our fully exclusive Legendary series of figures that will introduce Skylanders Trap Team to our enthusiastic customers this October."
Check out the trailer below as well as the photo gallery of screens and pics of the latest Skylanders Trap Team which is due out in October 5th for the XBox One, XBox 360, PlayStation 4, Playstation 3, Wii U and Nintendo 3DS.