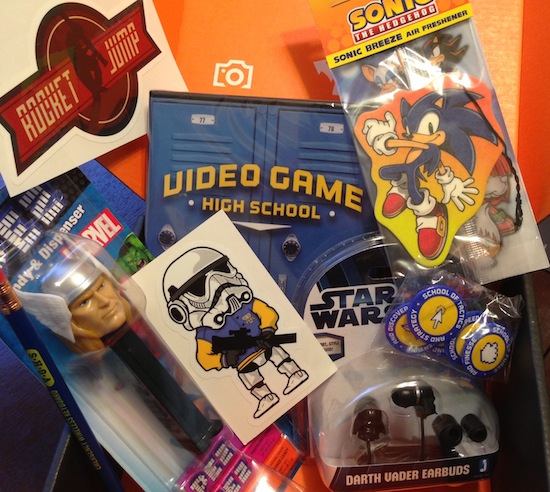 I recently wrote about Loot Crate, the company that is supplying geeks and gamers with a box of swag every month. To find out first hand whether the subscription service lives up to the hype, I got the July crate to review.
Part of the fun of the crate is definitely the mystery. I was nearly giddy with excitement when opening it, like a kid on Christmas morning. The first thing I saw upon unboxing was Star Wars earbuds. Immediately I knew I was in for a good haul. Next came a Thor Pez dispenser and then a Sonic the Hedgehog air freshener, which has a pleasing floral scent to it.
As I progressed, the crate's theme became clear. Whether to coincide with Geek Week on YouTube (August 4-11) or VidCon 2013 (August 1-3) or because popular web series Video Game High School (VGHS) began its second season on July 26th, this crate was perfectly themed around VGHS. Included was the entire first season of the show on DVD and a set of buttons portraying the different schools (e.g. Adventure and Discovery or Speed and Control).
Continue Reading →