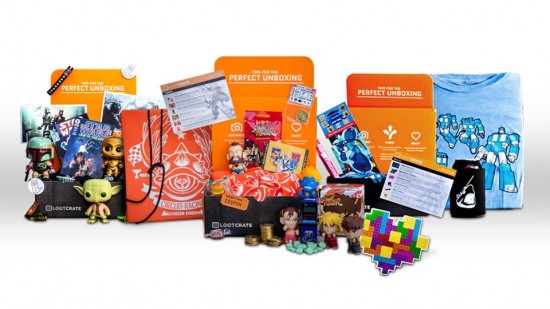 Just when it looked like bacon of the month club was the best subscription ever, along comes Loot Crate. Providing geeks, gamers, and anyone in between with a box of swag every month, the company is creating a community and feeding everyone's inner collector.
Founded by Chris Davis and Matt Arevalo, Loot Crate gives Looters, as subscribers are affectionately called, a box of 6-8 items with an approximate total value of $30. By partnering directly with brands such as Marvel, DC Entertainment, Funko, Star Wars, and Nintendo, Loot Crate is able to offer authentic gear and goods.
The contents of the crate cover a wide range, everything from a Live Long and Prosper button and zombie stickers to a Star Wars Pop! Vinyl Bobble Head and Street Fighter Mini Series Blind Box. Some of the most beloved items of past crates include the TARDIS Prime shirt (featuring the Doctor's blue box transforming into Optimus Prime) and the Space Invaders bow tie.
Not everything has been a hit but even the less popular items (bacon lip balm, for example) still delight Looters. "We would never put anything in there that we think would not resonate well with the vast majority of our community and our subscribers," Arevalo said in an interview at San Diego Comic-Con.
It may sound like a grab bag/box but in actuality each item is carefully selected by the Loot Crate team. "Every month we get to totally refresh the types of items we're giving," said Davis. That's because each crate is themed, such as February's "Cosmos" crate that contained Star Wars and other sci-fi related items.
So does every subscriber get the same items in their crate? Yes, with some minor variations for things like candy flavor or which Star Wars bobblehead (there were four possibilities). And how much does a subscription cost? Looters pay just under $20 a month for the service (there is also a 3- and a 6-month plan that drops the overall price a couple of bucks).
In addition to the monthly crate, one lucky subscriber also wins the much-coveted Mega Crate. With a value north of $250, Mega Crate's very name hints at the geek gold it contains like a Zelda shield, Doctor Who sonic screwdriver set, and a lightsaber.
Even more than providing a box of random goodies, Loot Crate is helping foster the geek community. Many of their 10,000+ subscribers post "unboxing" videos and pictures for each month's crate. "They see a value to joining our community," Arevalo said. "No matter what kind of geek or gamer you are…it's a good environment to be in."
Looters are also active in the mobile app and in a separate Facebook group where they make trades for items they got/want, share their passions, and perform Random Acts of Kindness. The latter is where a fan puts together their own "crate" and randomly picks a member of the group to send it to. That winner then does the same the next month and so on.
Speaking of the next month, both Arevalo and Davis are keeping quiet on the contents of the August crate. But the video game theme may make it one of Looters' most beloved crate yet. "The caliber of the company we're working with [for August] is a top tier publisher of video games," Davis teased. Any guesses who it might be?
We'll let you know when we do our review of the July Crate, so stay tuned for that.