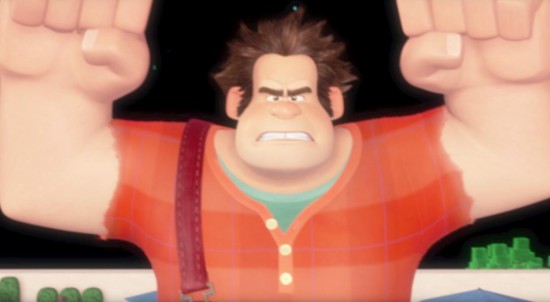 There are two known facts about The Flickcast's gaming division (a.k.a. the Bitcast):
1. WallE and I love video games.
2. WallE and I cannot wait until Wreck-It Ralph hits theaters.
So it only makes sense that we would be following the news on the Wreck-It Ralph tie-in video game. Now while we all know that movie tie-in games run a high risk of not living up to expectations for the film, or for games in general, there is a shed of hope for Wreck-It Ralph. After all, it is a game… based off a movie… that is based off of gaming. What could possibly go wrong? Well, don't answer that as we have seen many a project that should have been a layup go wrong.
In the new teaser trailer, we take a quick look at Wreck-It Ralph but don't get the opportunity to see his gameplay so that is what leads us to speculate. What is Wreck-It Ralph going to be like? Players have already been given the opportunity to play browser based versions of Hero's Duty and Sugar Rush on the Wreck-It Ralph movie site as well as a Fix-It Felix iOS game.
Continue Reading →