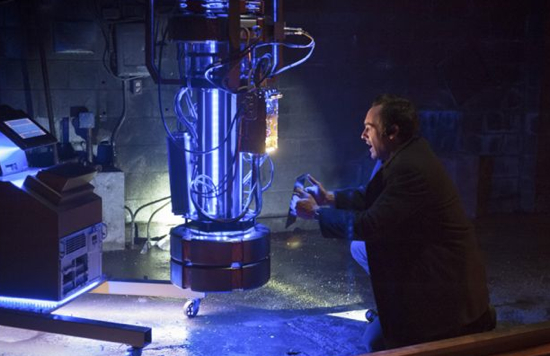 Things come to a head and all hell breaks loose in the final episode of the season.
Oliver awakens, shackled up in a basement. Malcolm tells Oliver that he is truly sorry for what Oliver went through on the island. Malcolm believes he is honoring his dead wife in the same way that Oliver thinks he is honoring his dead father. Malcolm tells Oliver that he cannot beat him, because Oliver doesn't know what his fighting for or what he is willing to sacrifice to get it.
Oliver manages to escape, with the help of Diggle, as apparently Oliver had put a tracking device in his boot. As they are waiting to hear from Felicity on the schematics of the device, Quentin confronts her. She is brought to the police station, but before he can get to far in grilling her, he receives a call from The Hood. The Hood tells him what Malcolm is planning, and in light of this new threat, Quentin lets Felicity go.
Tommy goes to the club to confront Oliver about him and Laurel, but instead Oliver tells Tommy of Malcolm's plan to level The Glades. Tommy lashes out at Oliver, and says he wishes Oliver had died on that island.