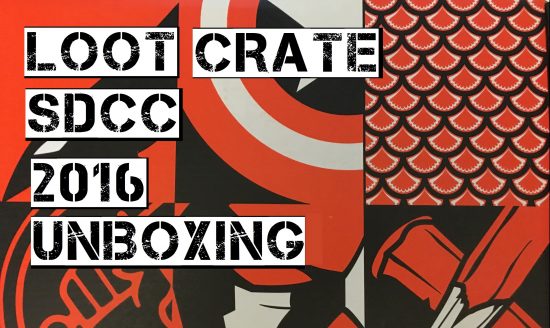 This is the first of three (possibly four) recap videos from San Diego Comic-Con International 2016 from my trip this year. As it is my eighth year going as a part of The Flickcast, it has been an honor covering the convention in a variety of ways such as photo galleries, interviews, visual tours and unboxings. This year will be no different. Later this week, our Comic Con shopping haul video will release followed by our Field Trip video where we take you down to the Con floor and even some of the VIP parties.
Our first video kicks off with the Loot Crate Gallery of Heroes Convention Exclusive Crate. Founders of the monthly geek in a box phenomenon, Loot Crate has maintained the top spot in the subscription box community.
Like last year, they crafted a special Comic-Con exclusive crate, this time themed around Gallery of Heroes. It contains items from Marvel, DC, Hellboy and Buffy the Vampire Slayer. Instead of spoiling it for you by just listing out items here, take a look below at the full video unboxing.
Stay tuned to The Flickcast for more SDCC 2016 Recaps!
Oh, one more thing. At the time of publishing this article, they have a few extra crates that made it back from San Diego which can be ordered by heading here.