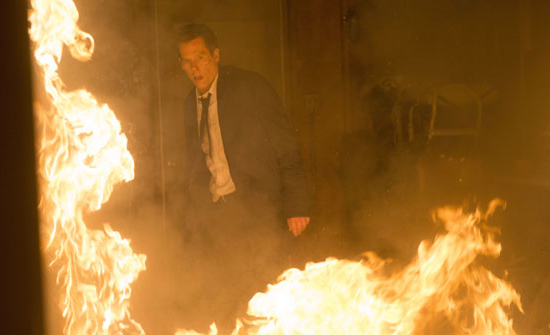 Surveillance footage shows cult member Alex Lipton and another man putting Agent Parker in the trunk of their car outside of the shelter. A boy wearing a Poe mask shows up at the police station, saying that a woman named Emma gave him $20 to wear it over there. A phone number is discovered inside the mask.
When they call the number, it connects them to a cell phone in the coffin with Agent Parker. She tells them what "little" she recalls while being stuck in the trunk. She "only" remembers going over a railroad track, counting to 700 (which another agent instantaneously determines is just over 10 minutes), turning onto a dirt road and driving for about 5 minutes. She tells Hardy that's "all" she remembers.
They are able to determine a large general area and head out. They find Alex's car on the side of the road, with a blown tire. The tire is slashed, meaning they were supposed to find the car. As they are looking around, Alex is in the woods with a gun, and starts shooting at the agents. He kills at least one before Hardy is able to sneak over to him and capture him.
Continue Reading →