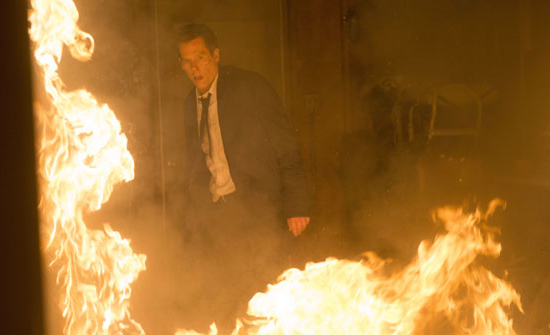 Surveillance footage shows cult member Alex Lipton and another man putting Agent Parker in the trunk of their car outside of the shelter. A boy wearing a Poe mask shows up at the police station, saying that a woman named Emma gave him $20 to wear it over there. A phone number is discovered inside the mask.
When they call the number, it connects them to a cell phone in the coffin with Agent Parker. She tells them what "little" she recalls while being stuck in the trunk. She "only" remembers going over a railroad track, counting to 700 (which another agent instantaneously determines is just over 10 minutes), turning onto a dirt road and driving for about 5 minutes. She tells Hardy that's "all" she remembers.
They are able to determine a large general area and head out. They find Alex's car on the side of the road, with a blown tire. The tire is slashed, meaning they were supposed to find the car. As they are looking around, Alex is in the woods with a gun, and starts shooting at the agents. He kills at least one before Hardy is able to sneak over to him and capture him.
Hardy and Weston are authorized to do what they need to with Alex to find out where Parker is. They take Alex into an old building and beat and torture him until he tells them where Agent Parker is buried.
As they are driving to the location, Parker calls Hardy, dying. She wants her sister to know she loves her, and to get in contact with her parents. Her only regret is that she wasn't close with her family. She tells Weston he is a good man, not to lose that. And she tells Hardy that she knew the deal coming in, she is not his fault. They try to reassure her that everything will be ok.
Alex leads Hardy and Weston to the location, and they feverishly dig up the coffin. They open the lid, and a lifeless Parker is inside. Hardy (the man with the heart condition, not Weston, the young man with a non damaged heart) attempts to give Parker CPR, but she is dead. Alex laughs about this, and Hardy walks up to him and shoots him point blank in the head.
Hardy discovers a copy of Joe's book in the coffin. This was all part of the plan, and they were supposed to find Parker and the book. The only difference is that Weston was supposed to have been killed by Alex earlier. A part of the book says that Hardy arrives alone, so he keeps Weston at bay at gunpoint, and leaves Weston at the location to go after Joe.
While they have been looking for Parker, Joe has been holed up in lighthouse quarters with Claire. Joe locks Claire in a room, where she finds a man named Neal. He was commandeered to bring the boat, and the people that took him have broken his ankle.
Claire tries to convince Joe that Neal does not need to be a part of this. She tells Joe that all of this is too predictable and doesn't make for a good story. He accuses her of knowing he was a killer and leading Hardy to him, turning him in.
Claire says that she had no idea Joe was a killer, even though the signs were there. She was blinded by love. It's her fault that all those girls died. Joe gets very upset at this remark, and drags Neal out of the other room and kills him. He tells Claire that this is a real killing. He owned and earned those murders, and they are his, not hers.
Hardy pulls up to a warehouse, and Emma greets him, making him give up his phone and gun. A man comes up from behind him and tazes him in the neck. When he wakes up, he is at the house with Joe and Claire. Joe wants the truth, and Hardy tells Joe that he followed Claire during the original investigation hoping that she would lead him to Joe.
Hardy tells Joe not to kill Claire, that's the predictable route of the story. Hardy has to die because noone will expect the hero to die. Joe will have none of this. Claire has to die to honor Hardy's death curse. It is by far the most interesting thing about him. Hardy calls Joe a bad writer- a hack. He is bored with Joe and with Edgar Allan Poe.
This distracts Joe enough for Hardy to attack him, and steal Joe's gun. He chases Joe out to the boathouse, where they struggle for the gun. Shots are fired, hitting some barrels of gasoline or some other chemical, starting a fire. Joe is trapped in the fire, and Hardy escapes at the boathouse explodes.
The next morning, investigators have found some remnants of a body and some dental evidence. Hardy wants to be sure it is Joe, and not somehow Neal. Hardy brings Claire back to his apartment.
The news is reporting that Joe has been confirmed dead, which Hardy is able to verify with the FBI. Cut to Alabama, where a disguised Emma is watching the news and crying. Back at the apartment, Hardy is using a knife to open a bag of food (his hand is injured or something) when he hears something at the door. He checks the door, but noone is there.
When he comes back to the table, the knife is gone. Molly stabs Hardy in the stomach, telling him that this was always her chapter. Claire comes out of the other room to find Hardy bleeding on the floor. Molly comes up behind her and stabs her (literally) in the back. The episode ends, with us (or me at least) to assume that Claire is dead and Hardy may have survived.
This was a pretty good season overall. Everyone has picked up on the obvious trends of Hardy or the team miraculously coming up with a clue, only to be seconds too late to save everyone or catch them all. While there was the air or predictability, it still left you with something to kind of play along with at home. They have signed on for a second season, so I'm guessing that Kevin Bacon will return. But they could opt to go with a whole new cast. Which would be pretty easy since a lot of this season's cast is dead or injured.