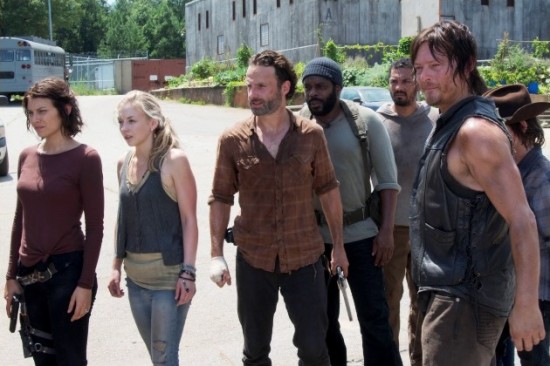 We begin with The Governor doing what The Governor does best, convincing a camp full of people to attack Rick's group at the prison. The Governor tells them that they burned down his city and killed his daughter. There a few good people there, but most of them are thieves and murderers.
While The Governor is talking to the camp, a flashback is shown of him knocking out Michonne and pulling a gun on Herschel. He tells his group that he has captured two of the prison's members, and this will ensure a safe, bloodless transfer of property. He has kidnapped Michonne and Herschel so that Rick will give up the prison in return for their safety.
Everyone agrees to The Governor's plan. Well all except for Lilly. She overheard The Governor's speech, and thinks they are fine right where they are. The Governor tells her he is glad she heard (which I'm sure is a lie) and that the prison is the only safe place for them.
Michonne and Herschel are being held captive in a trailer. Herschel tries to convince The Governor that the two camps can live together in peace. Herschel realizes that The Governor has changed, and tells him that Rick has changed as well. If he talks to Rick they can work something out. The Governor is not willing to do this. He can't live together with Rick and Michonne.
Continue Reading →