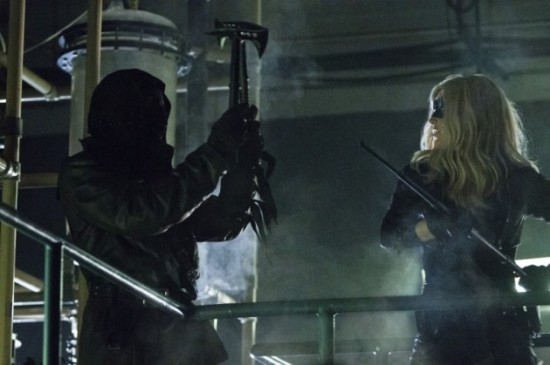 Sara is staying with Oliver while she is in town. Oliver is still trying to convince her to let her family know she is alive. As though she's just going to do it after saying she couldn't all those other times.
Oliver heads to a meeting with the D.A. regarding Moira's case. Laurel has been assigned second chair for the case against Moira, despite the 50 different ties she has to the family. A plea bargain of life with the possibility of parole has been offered, and Moira is considering it. Oliver is appalled that Laurel would work on this case, but Laurel reminds him that the only reason there is a plea bargain on the table is because of her.
Oliver returns to the house, and talks with Sara again. She says that the things she had to do offer her no forgiveness. A man dressed in Malcolm's villain gear attacks Oliver and Sara, but they manage to fight him off, and he flees.
Oliver introduces Sara to Diggle and Felicity, and Sara says that the man was after her, not Oliver. The man is called Al-Owal, and he works for the League of Assassins. Diggle has heard of this league, but thought it was a myth. They are deadly warriors that kill and vanish like ghosts.