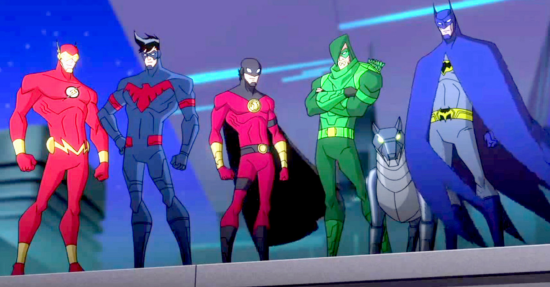 Fans who grew up with Batman: The Animated Series as their go-to cartoon superhero show have undoubtedly noticed the darker, more violent trend in those same cartoons now. I don't think this is bad or even unwanted, as you can tell from my review of this month's Batman vs. Robin. But a return to a more traditional, 90s feel is certainly welcome. That's what we get in Batman Unlimited: Animal Instincts.
The story brings together classic Batman foes and heroes to uncover the plot behind Penguin's new invention of Cyber Animals. The robotic creatures keep popping up during strange crimes committed by the Animilitia, a squad of animal-inspired villains that includes Silverback, Cheetah, Killer Croc and Man-Bat. Luckily, Batman has his own squad to call on and Flash, Green Arrow, Nightwing and Red Robin answer.
Animal Instincts comes straight out of DC Entertainment's desire to create a Batman animated film for younger kids. That sentiment registered strongly with screenwriter Heath Corson who "wanted to capture that fun of Silver Age Justice League comics." He's definitely done that here. Humor is used to great effect and is mixed effortlessly with both hand-to-hand and high speed action scenes. Fight sequences are often one-on-one giving each hero and villain a chance in the spotlight.
The choice of heroes here is no accident either. If you want to make an animated feature that appeals to kids and adults grouping the snarky Justice League members together is a great move. Flash dominates much of the sass but Green Arrow gets his bits in as well and Nightwing perfectly tows the line between Batman's stoicism and everyone else's playfulness.  Red Robin is a young teenaged Tim Drake and while he's a bit of a show off, he harbors an intense and ultimately essential desire to prove himself, even if it often goes hilariously wrong. Seeing him butt heads with Nightwing was especially delightful. The wet blanket to all the fun is, of course, Batman who thanks to actor Roger Craig Smith keeps his no-nonsense, humorless voice at all costs. He's the perfect straight man.
Joining Smith in the voice cast are many other veterans who know just how to bring their characters to life for a film meant for "literally everyone," as Will Friedle says. Yuri Lowenthal imbues Red Robin with a quippy sarcasm that remains free from any of the brooding sullenness we've gotten lately from Damien Wayne. Batman Beyond fans might be a little thrown at first hearing Friedle's voice coming from Nightwing but it works perfectly for a Dick Grayson who is a hero in his own right but isn't too proud to answer Batman's call or help train the newest Robin.
Friedle's connection with The Dark Knight even added an extra element of joy to the recording sessions. Putting two Batmans in the room could have gotten heavy but Smith said he found it "comforting" to have him around. "We get to dork out together," he added. Friedle's iteration of Nightwing in Animal Instincts is destined to be fan favorite, especially alongside Smith's Batman, and would hopefully return if Batman Unlimited becomes the film series Corson hopes it will be.
When Animal Instincts had its world premiere at WonderCon 2015, the room was filled to capacity and with far more kids and their parents than the arena was for Batman vs. Robin just two days earlier. In that respect, the Animal Instincts team achieved their goal but is the movie entertaining for anyone over the age of eight? Absolutely. Giving off a very TAS vibe but mixed with a Batman Beyond style and Batman: The Brave and the Bold tone, Animal Instincts hits all the right notes for audiences of all ages.
The film is certainly more light hearted than DC's other recent efforts but it doesn't skimp on the action and still meets the high standards both DC and Warner Bros. have set. This is very much a Saturday morning cartoon and all the better for it.
Batman Unlimited: Animal Instincts arrives on Blu-Ray, DVD, and Digital HD on May 12th.