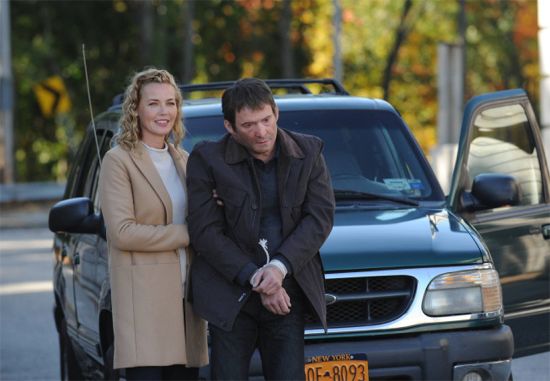 This week on The Following Mark hears noises coming from Luke's room, and finds Giselle dead in Luke's bed. Luke is pretending that she's alive, but it's very obvious that Giselle is dead. Luke tells him that Hardy killed her.
Max is stitching up Hardy's gunshot wound while Hardy calls Mike. He tells Mike that Lily has a whole family, and that he thinks they (including Joe) are nearby. Mike tells him he's on the way, and takes off without telling anyone at the FBI. When Mike arrives by himself, he tells Hardy he thinks the FBI has been compromised, and that someone from the inside has been tipping off Joe.
Lily and Joe are still in bed, and Lily is telling Joe all about how they can take the whole family to Venezuela. She has her own plane, and a place on the beach, and it's very tough to extradite from Venezuela. Joe tells Lily that there are always options. Lily is upset that he doesn't want to just pick up everything and leave. One of the French girls comes in to tell Lily there is a problem.
Continue Reading →