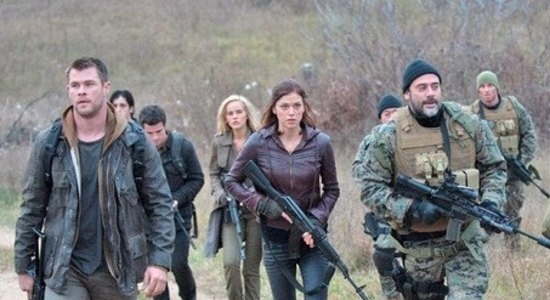 This country is big enough for more than one Red Dawn movie. Sure, we liked the original featuring Patrick Swayze and Charlie Sheen, but this new one looks pretty good too.
In fact, this cast contains some of our favorite actors including Chris Hemsworth, Josh Hutcherson, Adrianne Palicki and Jeffrey Dean Morgan, so we can't help but be interested. And today, as trailer Tuesday continues, there's a new trailer/video that's dropped to bring you even more from the upcoming movie.
In case you're not familiar with the story, it goes a little something like this:
Determined to fight back (after their small town is invaded), a group of young patriots seek refuge in the surrounding woods, training and reorganizing themselves into a guerilla group of fighters. Taking inspiration from their high school mascot, they call themselves the Wolverines, banding together to protect one another, liberate their town from its captors, and take back their freedom.
Wolverines! Check out the trailer after the break.