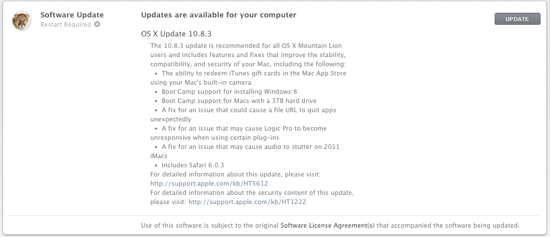 One thing you can say about Apple, they seem to provide a rather steady stream of updates to their various operating systems. Today's example is an update to OS X Mountain Lion, which brings the software to version 10.8.3.
It features a good amount of fixes, improvements, etc. including:
• The ability to redeem iTunes gift cards in the Mac App Store using the built-in camera on a Mac
• Boot Camp support for installing Windows 8 and Macs with a 3 TB hard drive
• Various fixes for issues that cause a URL to quit apps unexpectedly, that might cause Logic Pro to become unresponsive and stuttering audio on 2011 iMacs.
The update also includes Safari 6.0.3, which is nice. Although, I still prefer Chrome. But that's a topic for another day.
The update is available via Software Update or through the Mac App Store. Here's the full list of fixes and improvements.