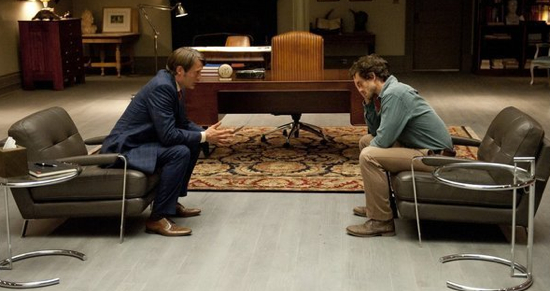 Even though it's hard to imagine another actor besides Anthony Hopkins as Hannibal Lecter (although Brian Cox wasn't so bad either), we're going to be getting a new Hannibal anyway. This time, he's on TV.
Who is this new evil mastermind? None other than one of our favorite, underappreciated actors: Mads Mikkelsen. With that in mind, and pretty much only that, we've decided to give NBC's new series Hannibal a chance.
In case you're not famiiar, the show follows the adventures of a younger Will Graham (played by William Petersen in Michael Mann's Manhunter and Hugh Dancy in this version) as he works to solve serial murders for the FBI's behavioral sciences unit. Of course, he can't do it alone, so he enlists the help of famed psychiatrist Hannibal Lecter.
Obviously, things don't go as planned. Which is, of course, to be expected. To get you interested in the show and ready for the premiere, we've got a ton of previews for it after the break. Check 'em out.
Hannibal premieres tonight at 10/9C on NBC.
Will Graham knows all about the meeting of minds.
Dr. Lecter knows Will Graham is not like the others.
Will's gift is a colorful curse.
Jack Crawford introduces himself to Hannibal Lecter.
Jack needs Dr. Lecter to back off on head shrinking Will Graham.
Jack tries to keep Will Graham focused on a killer.
Alana Bloom is looking out for Will Graham.