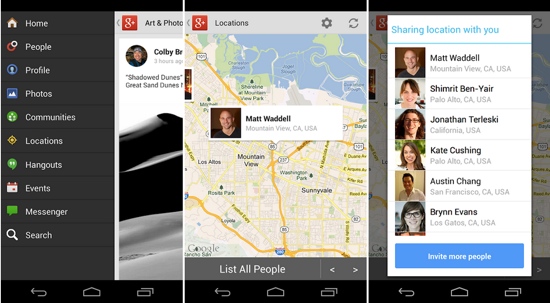 With Google I/O last week, the company unveiled a brand new vision for mobile communication called Hangouts. A major component of Hangouts is the Google+ service, which is getting a major update today.
Among the many changes in Google+ are new photo features including auto backups, auto highlight of the best photos, auto enhance, and "Auto Awesome." In addition, there is now a dedicated tab for "Locations." This new feature enables users to see where friends are on a map so that you can set up places to meet. If you don't want to take advantage of this feature, or are just wary of sharing your location, this can be turned off in location sharing.
There's also a new card UI and exploring features taken from the Chrome version of Google+. Tags are shown at the top right of posts, so that you can easily browse by topic. Notifications have been updated as well and are "nicer to look at and use," plus profile fields can be edited on the go.
The update is expected to hit today. Look for it in the Play Store.