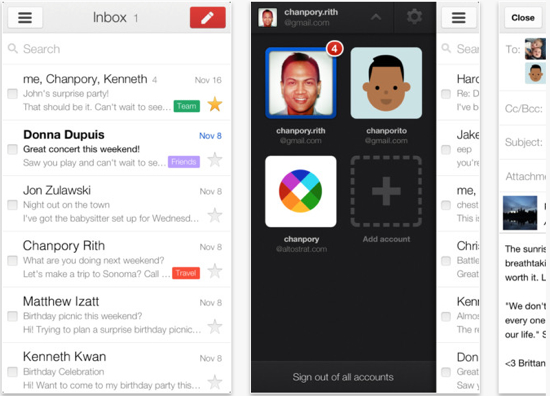 If you haven't already heard the news, the email wars are over and Google won. Gmail is the dominate email address and platform that most people use. In fact, we're not sure we know anyone who doesn't have a Gmail account.
Fortunately, those who do don't usually have to decide between using an iOS or Android-powered smartphone to get their email on the go. There's plenty of other reasons for the debate between Android and iOS, but thankfully Google doesn't make you choose — at least where email is concerned.
Today the Gmail apps for both iOS and Android got an update. Both updates feature the new "Categories" tabs as well as the usual bug fixes and performance improvements.
Here's what you specifically get in the new iOS version:
• New notifications options: Get notified for all messages, only important messages, or none at all, on a per account basis. Customize these settings from the in-app settings page.
• Meet the new inbox: If you've enabled the new inbox, your mail is now grouped into categories so that you can see what's new at a glance and decide which emails you want to read when. Primary mail is shown first and it's easy to access and keep track of email in other categories by opening the menu. Configure this feature by going to Gmail.com on your computer.
The Android update features these improvements/changes:
Android 4.1 (Jelly Bean) and up:
• Reply, archive or delete from notifications – no need to open the app
Android 4.0 (Ice Cream Sandwich) and up:
• Faster search, even when you're offline
• Bug fixes and performance improvements
Android 2.2 and up:
• New Labels API for 3rd-party app developers
• Performance improvements
Get the iOS version right here and the Android version right here.