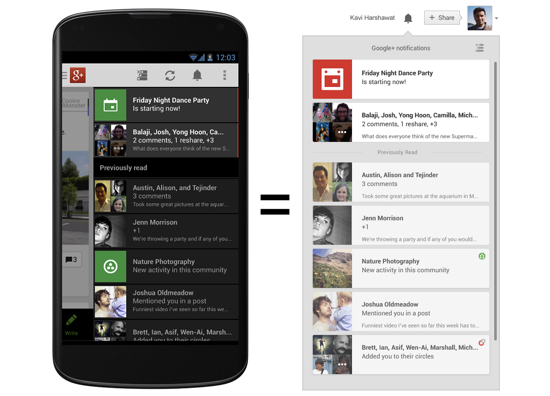 If you want the latest news about updates and improvements to Google services, you won't find a much better source than Vic Gundotra. As Senior VP of Engineering for Google, he's privy to pretty much everything that happens at the company. And he likes to share.
So, when he touts a new update for Google+, we listen. In fact, that's just what he did this morning. According to his post, the update introduces a new navigation drawer that is "more consistent with other Google apps." In addition, notifications will now sync across devices so you no longer have to see the same notifications from device to device if you've already dismissed them.
You also get a new notifications tray with a bell icon that lets you know if there's something for you to see as well as unread and read trays. So, some nice improvements. This update should start being availbe today for Android and the web with iOS update to follow.
Here's what the changelog says about the update:
Notifications sync:
When you read a notification on one device, we'll mark it as read on your other devices
Likewise: dismissing a notification (with a swipe or a click) does so everywhere, so you can say goodbye to annoying repeats
Notifications tray:
A new bell icon (in the Google Bar, and in the mobile apps) that lets you know if anything's waiting for you
An updated notifications tray that separates unread from previously-read items
Android app:
You can now delete your photos from the Photos view
Tapping into a post shows the number of +1′s, comments and reshares
The left-hand menu design is now more consistent with other Google apps