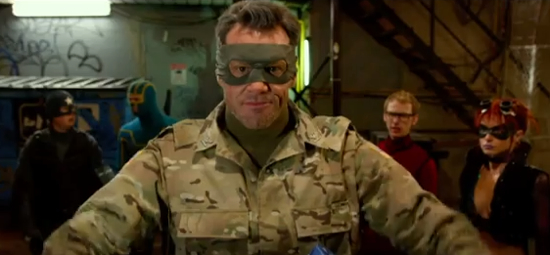 After reading Kick-Ass 2, we waited for the firs trailer to come out for the movie to see if it lived up to the first one. While no one agreed with all of the changes made to the original Kick-Ass movie, Matthew Vaughn still did a great job working with the source material and made an entertaining adaptation.
How do you take something like Kick-Ass and make it more profane and obscene than having a little girl spewing expletives and hacking guys to death? Kick-Ass 2 apparently plans on doing it with even worse language and a horde of new costumed vigilantes.
This latest trailer gives a look at Jim Carrey in action as Colonel Stars and Stripes as well as his "wonderful pet." We also get a further look at Red Myst who has reinvented himself with a very un-PG new name. We're not sure if it all works or will end up a giant mess. Still, we're interested enough to go see it.
Kick-Ass 2 returns Aaron Taylor-Johnson, Chloe Grace Moretz and Christopher Mintz-Plasse. Jeff Wadlow takes over for Vaughn as director.
Check out the trailer after the break.