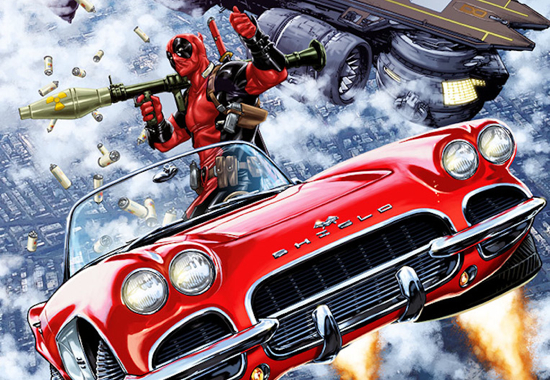 One of the most colorful characters to come from Marvel has to be Deadpool. The Merc with a Mouth has some of the most interesting and funny adventures of any character in the Marvel U. And now he's going up against those agents from S.H.I.E.L.D.
Here's the scoop on this epic event, written by Gerry Duggan & Brian Posehn with art by Mike Hawthorne, which starts in Deadpool issue #21:
It's been a while since S.H.I.E.L.D. had Deadpool re-kill the reanimated Presidents of the United States – and Agent Gorman of S.H.I.E.L.D. stiffed him on his well-earned pay! After all, he doesn't do this for free, y'know? Now it's time to collect what he's owed – even if he's gotta take down all of S.H.I.E.L.D. to get paid!
But with S.H.I.E.L.D. Agent Preston's consciousness still stuck in his head – how's she going to feel about all this destruction? And is all this S.H.I.E.L.D. stuff a shameless cash-in because of the TV show? Ask guest-star AGENT COULSON!
Check out the preview pages after the break. Look for Deadpool #21 to hit store shelves on December 18th.