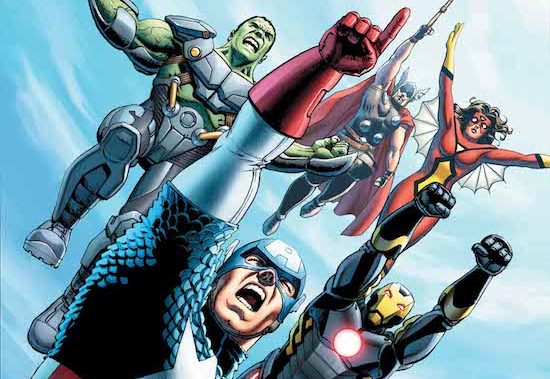 It's an Avengers' world, we're just livin' in it. Don't believe us? Well, perhaps this preview of the upcoming comic series, aptly titled Avengers World, will convince you. See what we did there?
The series, written by Jonathan Hickman and Nick Spencer with art by Stefano Caselli and a cover by John Cassaday, hits stores in January. Be sure to check out the preview pages aftr the break.
Here's all the info from Marvel's official release:
Following the events of INFINITY, our heroes have returned from the stars to find a very different Earth. New threats have emerged on the world they left behind, and new measures have risen up to deal with them. Earth has been marked an "Avengers World", safely under the protection of Earth's Mightiest.
But how will the nations and governments of the world respond to their claim – and what happens when it's denied?
"The premise of the book is that it's the Avengers, doing big things, because it's an Avengers World now," editor Tom Brevoort said in an interview with Marvel.com. "But while we'll field the same potential lineup of 18+ Avengers in WORLD, we'll specifically be looking to give greater screen time to some of the newer Avengers, like Hyperion, Smasher, Cannonball, Shang-Chi, Starbrand and Sunspot."