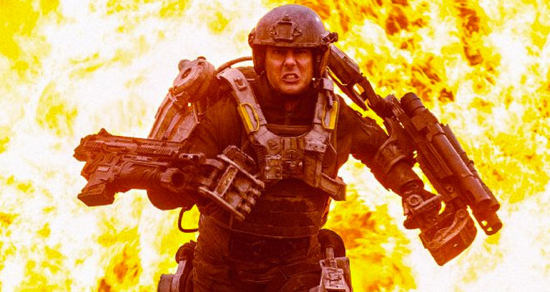 Yes, the premise of the upcoming Tom Cruise starrer Edge of Tomorrow (which used to be called All You Need Is Kill) does kinda sound like "Groundhog Day in Space," but that's okay. It's got a lot of other good things going for it.
Two of these things are director Doug Liman, no stranger to action he, and star Tom Cruise. Yes, I'm in the "pro" Cruise camp. You got a problem with that?
In this one Cruise stars as an officer fighting an alien war who becomes stuck in a time loop and is forced to re-live the same combat mission over and over. The film also features Emily Blunt as the girl who helps Cruise become a real boy while he's forced to re-live the same day over and over. In other words, she's the new Andie MacDowell.
Gotta say, the trailer looks cool though. I'm interested. Although, I can't help wondering what would happen if someone put this much effort into a reboot of Starship Troopers. Now that I would like to see.
Until then Edge of Tomorrow arrives in theaters on June 6, 2014. Check out the trailer after the break.