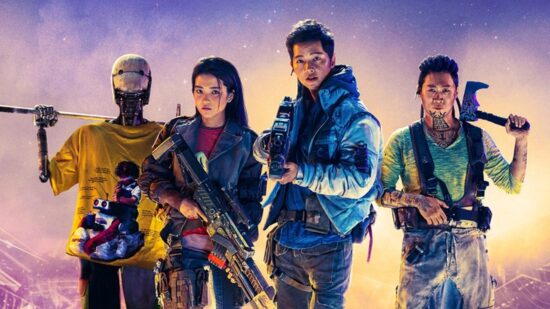 Time to kick off another new feature here at The Flickcast. This one is called What We're Watching. You can probably guess what it's gonna be about: movies, TV shows and other things we're watching.
Not that hard to figure out, right? Good. Moving on.
For the first installment we go international with South Korean sci-fi/action film Space Sweepers. Part Star Wars, part Guardians of the Galaxy, this space epic features a rag-tag group of reluctant heroes who struggle against an oppressive corporation with less than benevolent motives.
They also fight to keep an adorable little girl safe because she just might be the key to the future survival of the human race. No pressure, though.
The movie boasts some impressive visual effects, captivating performances, heartfelt emotions and an international cast of actors including Song Joong-ki, Kim Tae-ri, Jin Seon-kyu, Yoo Hae-jin and Richard Armitage, of Hobbit fame, as the Elon Musk-ish tech billionaire who's going to save humanity. Maybe. It's written by Yoon Seung-min, Yoo-kang Seo-ae and Jo Sung-hee, who is also the director.
It's really quite a fun ride and takes time to develop the characters so that you care about what happens to them. And yes, lots of stuff blows up too. We really enjoyed it. You might too. Give it a watch.
Until then, check out the trailer below. Space Sweepers is on Netflix right now.