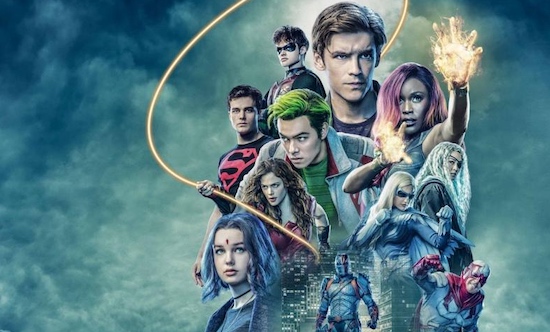 It's time for another edition of What We're Watching. This time What We're Watching is the television series Titans.
Created by Akiva Goldsman, Geoff Johns, and Greg Berlanti, Titans debuted and already ran for two seasons on DC Universe. The show has now moved to HBO Max with a third season set to drop later this year.
Titans follows the adventures, misadventures, trials, tribulations and bloody fights of a group of teen, and slightly older, superheroes led by everyone's favorite sidekick Dick Grayson (aka Robin, the Boy Wonder). Although, as the show begins, Dick has been out from under Batman's shadow for five years and been replaced by a younger Robin (aka Jason Todd).
The show also features Starfire, Raven, Beast Boy, Hawk, Dove, Deathstroke, Connor Kent (a clone with combined Superman and Lex Luthor DNA), Wonder Girl and a host of other familiar names, faces and costumes. They're especially familiar if you're fan of the Titans's comics. Fortunately, we are.
The show is violent, profanity-laden and immensely enjoyable. Sure, some may not appreciate another gritty take on superheroes, but we think this one works. And yes, we're aware of the "issues' with the season one finale, the "problems" with Raven's Dad Trigon and especially the "controversy" about the casting of Anna Diop as Starfire.
Some people are always going to be upset about something and these things don't in any way detract from our enjoyment of the show. And it should't for you either. In fact, especially in the case of Diop, we find the objections ridiculous.
She does a great job. Give her, and the show, a chance. You just might enjoy it. If not, you can always watch something else. Plenty of other things on HBO Max and the host of other streaming services.
Season one and two of Titans, which features Brenton Thwaites as Dick Grayson, Anna Diop as Kory Anders, Teagan Croft as Rachel Roth, Ryan Potter as Garfield "Gar" Logan, Minka Kelly as Dawn Granger, Conor Leslie as Donna Troy, Esai Morales as Slade Wilson and Iain Glen as Bruch Wayne, are available on HBO Max. Season three, which is filming now, arrives later this year.
Check out the trailers for Titans season one and two below. If you watched Titans, let us know what you think. Any other shows you love we should be watching?
Let us know in the comments or hit us up on Twitter, Facebook or Instagram. Enjoy!