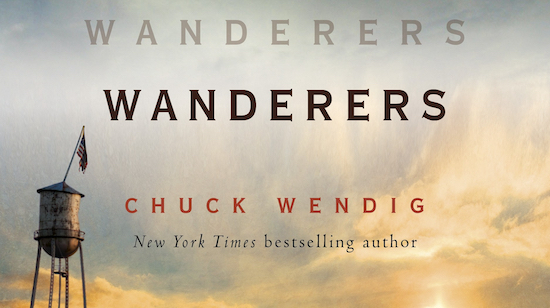 It's time for another edition of What We're Reading. This week What We're Reading is Chuck Wendig's apocalyptic novel Wanderers.
To us it seems sorta appropriate to be reading a novel about the downfall of society during a pandemic. Heck, we're gluttons for punishment most of the time and watch/read and enjoy all sorts of stuff some may find distasteful. To each his or her own, right?
Fortunately, at least in the case of Wanderers, it's so good and so consistently entertaining we can actually forget about real world issues and instead concentrate on the issues of the characters in the novel. That's no small feat and we have Chuck Wendig's excellent writing to thank for it.
So, thank you Mr. Wendig. Chuck . . . Can we call you Chuck? Anyway . . .
Wanderers grabs you from the first page and never lets you go. It's the kind of book you're tempted to read the last few pages of because you desperately want to know how it ends, who's gonna survive and what the hell is going on, but you don't dare.
Even though you really want to know, you also want to follow the story to see what happens and not spoil anything. Such a tough (and great) predicament to be in.
In short, as you can probably tell, we loved the book around here and can't recommend it highly enough. And we're not the only ones.
It was named one of the best books of the year by The Washington Post, The Guardian, NPR and Publisher's Weekly. Not bad. Give it a read, you're sure to enjoy it too.
Get your copy of Wanderers wherever awesome books are sold. We got our copies at Amazon and BookPeople, our local bookstore here in Austin.
The novel is also being developed as a television series by Walking Dead and The Shield producer Glen Mazarra. So, that's pretty cool. Lastly, look for Wayward, the sequel to Wanderers, hitting bookstores in 2022.
Have you read Chuck Wendig's Wanderers? If so, what di you think of it? Let us know in the comments or hit us up on Twitter, Facebook or Instagram.
Note: This post contains affiliate links.
Artwork: Del Rey / Penguin Randomhouse